In the order I read them:
01 Simon Vs The Homo Sapiens Agenda by Becky Albertalli
5/5
This book is fluffy and amazing and please go read it. I read it twice in two days and stayed up until 4am each day, which is really saying something because I am not good at staying up past Midnight.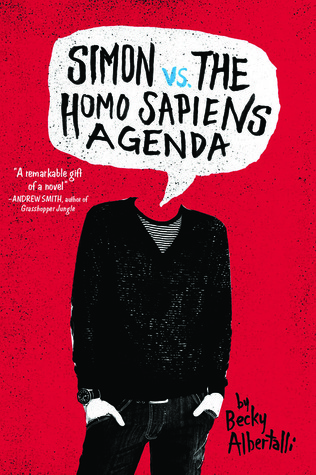 02 Skulduggery Pleasant (Skulduggery Pleasant #1) by Derek Landy
4.75/5
Guys, go do yourself a favour and read this book (I'll probably say the same thing about all the books on this list though). Skulduggery Pleasant is one of the best series I've read, I am currently reading book 9 (out of 10) and am really enjoying it. This series is full of unique and quick-witted characters – the banter is ridiculously good!
03 Captain Marvel, Volume 1: Higher, Further, Faster, More by Kelly Sue DeConnick (Writer) & David López (Artist)
3.5/5
I read the first three volumes of this series earlier in the year and absolutely loved it! Carol Danvers is brilliant, or t least I think she is. I find her to be one of the more relatable superheores, while she may be in space, saving the galaxy she is still keeping up with the fandoms – she called her cat Chewie!
04 Blue Lily, Lily Blue (The Raven Cycle #3) by Maggie Stiefvater
5/5
The Raven Cycle is one of my favourite series and I have loved every book in the series so it's hard to say which one is my  favourite, but this book is certainly a close contender.
05 Nova Volume 1: Origin by Jeph Loeb (Text), Ed McGuinness (Illustrations)
5/5
This is one of my favourite comic series of all time. Nova is pretty much Spiderman in space. He's an adorable little kid with big shoes to fill – he's here to save the galaxy (and do his homework).
06 Career of Evil (Cormoran Strike #3) by Robert Galbraith
4/5
I really love this series – I listen to the books on audiobook and I really recommend that style. The audiobooks really capture the voices of the characters. Rowling has created some really amazing characters – the stuff she comes up with s amazing!
07 The Hidden Oracle (The Trials of Apollo #1) by Rick Riordan
5/5
I also listened to this one on audiobook and really enjoyed it! I loved this book and consider it one of my favourites of the year, Riordan just has a way with words. Apollo is a hilarious narrator and I really can't wait to read book 2 next year!
08 The Golden Door (The Three Doors Trilogy #1) by Emily Rodda
5/5
I read this trilogy a few years ago and loved it and randomly in the middle of the year I was hit with the sudden urge to re read it. And I am so glad that I did pick up the trilogy, it's a lovely and unique series and I can't recommend it enough.
09  The Final Empire (Mistborn #1) by Brandon Sanderson
5/5
Oh. My. God. Don't even get me start with this book. Brandon Sanderson is a fantasy god.  I loved the magic system and the characters are all amazing.This trilogy is truly brilliant and I cannot wait to start some of his other books.
10  My Lady Jane by Cynthia Hand, Brodi Ashton &  Jodi Meadows
5/5
Okay, guys, I know it's Christmas but stop what you're doing and please go and read this! This book is hilarious and you can tell the authors enjoy working together. The characters are awesome and the plot is ridiculous!
11 Lumberjanes, Vol. 1: Beware the Kitten Holy by Noelle Stevenson
5/5
I read the first 4 volumes of this series last month and can't wait to read volume 5 when my library gets it. I loved the artwork and I loved the relationships, romantic or otherwise. This is a fun and original new comic series and I can't way to continue on with!
12 Fantastic Beasts and Where to Find Them: The Original Screenplay by J.K. Rowling
5/5
I saw this film last month and fell in love with Newt Scamander instantly, I went from being incredibly sceptic about the series to having complete faith in Rowling. After reading this and seeing the film, I believe that J.K. knows what she's doing and I can't wait to see her latest project through. Can't wait for the next instalment!