Hi everyone. Welcome back to my blog and welcome back to my Marvel reviews series! Last year I really enjoyed reviewing Marvel shows, particularly the Disney+ series so I'm continuing that in 2022 and starting with Hawkeye! I'm really curious to know what you all think of the show and where you think the MCU is going in terms of aesthetic and story!
Predictions for Hawkeye:
WandaVision was about pain and grief, The Falcon and The Winter Soldier was about racism and injustice and Loki was about trauma and free will so I'm wondering if Hawkeye also has a deeper message or if it's just Christmas and also here are some nerds with a bow and arrow LOL.
I'm not gonna lie I took a break from the Marvel shows after Loki came out (even though I was the most excited for this one…) but I'm finally ready to watch it!
*hoh = hard of hearing
EPISODE 1 'NEVER MEET YOUR HEROES'
I really loved seeing the impact of the Avengers, I feel like outside of AOU we never really discussed how hundreds of homes get destroyed in the battles.
Yeah, I mean the acting isn't that great so far from the younger actress but I honestly don't care because the music is amazing!
Gosh they're really not being subtle with that opening title sequence. And yet will they pay the creators who literally concieved this version of the characters? No. But they'll steal the ideas and aesthetic! Bad Marvel!
I've only known Kate Bishop for 10 seconds and I already love her even though I know for sure we would never get along.
Seriously though I am absolutely in love with the soundtrack, it does a lot for the show! But, I think that can be said for all Marvel shows so far!
I really though Rogers The Musical was going to be hilarious but it was trauamatic and I never want to see it again
Kate is ROCKING that tuxedo tho! 💯💯💯
I just… I mean they're not subtle at all with this. She has a bob. bob cut = evil.
This is not a mum. This is a business manager with empathy issues.
I don't usually do this with Marvel shows but I really just skimmed through the last 10 mins of that episode after Lucky ate the pizza 🤷‍♀️
EPISODE 2 'HIDE AND SEEK'
Wow, you know how you know when a movie/show is bing made by a truly rich company? When the characters can use Google! I've literally never seen this before.
Sign language! Don't mind me shedding a tear over here!
I can already tell this is going to be a very slow show and I'm going to want to skip a lot of it.
I loved the ending! We have another deaf character and I'm so hyped about it! (her name is Echo and she's so so cool!)
EPISODE 3 'ECHOES'
Damn that first scene hurt me! This was so often what it was like for me in school too. Little things like the teacher facing the other way and missing every second word makes it imposible to know what's going on in a classroom and relying on watching the other kids around you to know what page you're meant to be on etc. always feels so dehumanising. I just know I'm going to love seeing Echo onscreen, she's a badass and I honestly can't believe that not only do we have a hoh hero but we hae a deaf villain!!
Okay so I can already tell this was written by ablebodied people because I don't think that we should be romanticing ""jumping between two worlds" as the show put it. We're seeing a young girl who wants to go to a deaf school because she's the only deaf girl in her class and she has to try and survive basically in an environment where everyone will always believe she's an idiot and that she's too quiet but not quiet enough. And she's being told it's a good thing and that it will benefit her in the end. Please be honest with yourself and your children and don't ever say things like this.
WAS THAT KINGPIN's ARM? I WAS NOT PREPARED!!!
Kate Bishop: Relationship Councellor
Ahh a classic. Shaming hoh people for not signing fluently. 🙃
I really appreciate that Kate is still getting properly scared in thiese situations and not just an action hero from the get-go!
Clint Barton swimming through a play pool of toy balls was what I came here for and I'm glad we all got to witness that.
I am absolutely living for hoh Hawkeye. That car scene was absolutely perfect and exactly what I want the show to be.
A PYMP arrow? Damn, ALRIGHT!
These two are so chaotic and on exactly the same wavelength and I love it!!
I also wonder how I would've gone watching this week by week. I'm flying through it now because I want to finally get this review out but there's nothing really keeping me watching except my love for deaf rep and the comics.
I wonder if the cast/writers knew how important some of these scenes were and how realistic they woud be to the deaf/hoh experience (obvously differing for each peron) because that scene with Clint on the phone to his son hit me HARD!
Wow these episodes are long. I take a break after 20 mins because in my mind that's the perfect length for any episode instead of this 45 minute ridiculousness!
EPISODE 4 'PARTNERS, AM I RIGHT?'
Okay so the mum has a bob cut and the step dad is British and has a mustache – please tell me these cartoon villains aren't going to be here the whole time and instead we'll get to see more of Echco and then hopefully Kingpin??
I'm so glad they're finally letting Hawkeye be cool! He's a total badass even with he trick arrows!
HEARTFELT TRAINING MONTAGE I LOVE IT HERE 🥰🥰
Florence Pugh! LOML FLORENCE PUGH
EPISODE 5 'RONIN'
😥 Yelena
Oh my god okay so I haven't actually seen the black widow movie because honestly it looks awful but I know I love Yelena Belova because I have seen a lot of her scenes from the movie and she's absolutely adorable in this show too! She's so funny and cute and I love that she also happens to be a killing machine!
I'm starting to notice that I only really seem to have anything to say every two episodes but I'm really hoping that changes now that Florence Pugh is here (and hopefully we'll see Kingpin as the big bad in ep 6???)
Okay so Laura obviously has a past. Was she an assassin too? Will we get to see a flashback?
This is going to sound weird but I may or may not have shed a tear seeing Kingpin finally in the MCU. He's one of my all time favourite villains and I can't wait to see him in action!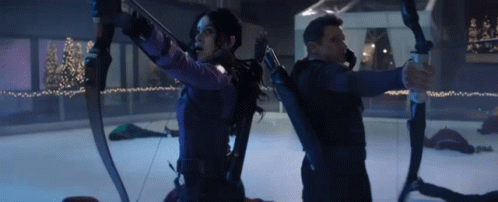 EPISODE 6 'SO THIS IS CHRISTMAS?'
IT'S THe HAWAIIAN SHIRT FOR ME! wE LOVE COMIC ACCURACY IN THE HOLIDAY SEASON!
The lighting, the music, Vincent D'Onofrio! It's all so perfect!
We love a montage of partners building trick arrows together! Partners who build trick arrows together stay together!! (platonically obv)
Florence Pugh looks like a goth elf in that green coat and I'm loving it!
Please tell me Yelena and Kate are going to be best friends because I love them and the actresses play really well off eachother!
They look badass in their suits and absolutely badass raising hell together!
I love how invincible an menaing they've made Kingpin! He doesn't need to say anything he just needs to stand there!
WAIT LINDA CARDELLINI IS AGENT 19??????????? LOML MOCKINGBIRD???????????????????
I loved that ending. It was absolutely perfect and I loved all the snow!
End credit scenes:
I'm going to sound like a total buzzkill here because the whole idea of Rogers the musical is hilarious to me but I actually find it so disturbing to watch and I genuinely hope we never see Disney try and make one IRL.
There was no end-credit scene to really talk about and instead I just torured myself with Rogers the Musical wishing Steve would not "do this all day".
OVERALL THOUGHTS
Overall I did really like the characters and the writing but this was too slow and felt too low stakes compared to all of the other shows. I really liked the rep (most of the time) but I wish we'd actually gotten to know the characters a bit more, even if that was just through montages or something similar. I really enjoyed that ending and I really hope we see all of these characters again, but when you pit Hawkeye against all of the other Disney+ Marvel shows it really doesn't compare. I think this will be great on youtube just watching individual scenes but it doesn't really hold it's weight as a full 6-episode show, unfortunately.
Have you watched Hawkeye?
What did you think of the show?
Goodreads | StoryGraph | Instagram | Letterboxd | TV Time | Twitter |
Tumblr | Libro.fm Code