Hi everyone, welcome back to my blog! Today I'm publishing something a bit different for me, but something I'm hoping to do more often on my blog in the future – picture book reviews! If you don't already know, I'm a teacher aide so I read a lot of picture books when I'm at work, so I figured why not review them with you all? Enjoy!
Thank you so much to NewSouth Books for providing me with review copies.💕
Our World Out of Balance: Understanding Climate Change and What We Can Do by Andrea Minoglio & Laura Fanelli
June 2021
Ages 8+
⭐⭐⭐⭐⭐
Okay, so this is definitely the longest book I'll be reviewing today but it's also my favourite! I loved how informative and easy to read this was, and I thought Laura Fanelli did an amazing job with the illustrations! I can't pick just one favourite page because they all stood out to me, but if I had to pick just three I would recommend taking a look at How The Amazon Rainforest Works (pages 14 & 15), How Polar Sea Ice Is Formed (pages 22 & 23) and How Coral Reefs Get Bleached (pages 46 & 47). I think this is a fantastic resource for kids (and adults) and if you pick up any of the books from this blog post, I hope you read this one!
My First 100 Weather Words | My First 100 Bug Words | My First 100 Dinosaur Words by Chris Ferrie & Lindsay Dale-Scott
August 2021 • Ages 0 – 3 • ⭐⭐⭐.5
I adored these little books and I already can't wait to show them to the kids at school when I'm there next! My favourite pages were the space & climate zones in the Weather Words book, beetles and grasshoppers from Bug Words & Carnosaurs (I love a Spinosaurus!) and the Pterosaurs pages from the 100 Dinosaur Words book!
The colours and illustrations were absolutely amazing and made these books so easy and fun to read! If I was a parent I would absolutely own the entire collection, but since I'm not I'll be passing these along to my local school asap! Such an adorable series and such a fun way to learn about different topics! (I also really loved how soft and squishy the covers are!)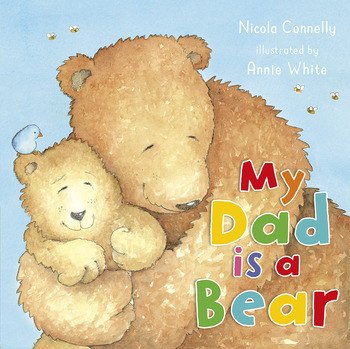 My Dad is a Bear by Nicola Connelly & Anne White
August 2021
Ages 0 – 3
⭐⭐⭐
A super cute, quick read! This was adorable and I absolutely loved the font and the illustrations!
Hey, Water! by Antoinette Portis
August 2021
Ages 3 – 6
⭐⭐⭐⭐.5
First off, I just wanted to start by saying that I'm usually more of a visual reader than a physical one, but the texture of those pages? 💯💯💯 I couldn't get enough, it was so nice to flip the pages!! I absolutely adored the illustrations in this book and I loved all of the little pages showing different forms of water, so cute! I also really liked the inclusions of the Water Cycle illustration at the end, as well as the facts! I think this book is such a fun talking point about water and I definitely recommend it!
Fearless with My Dad by Cori Brooke & Giuseppe Poli
August 2021
Ages 3 – 6
⭐⭐⭐.75
What I've loved so much about reading these books to write these reviews, is how iferent each illustrations style has been! This was different to the others but I still really enjoyed it! I especially loved the full-page illustrations! My favourites were the treehouse page and the pages where they were looking at the moon! I love how creative this book was and I think it would be perfect for any father/son (or daughter!) duos out there!
Do you read picture books?
Have you read any of these?
Goodreads | StoryGraph | Instagram | Letterboxd | TV Time | Twitter |
Tumblr | Libro.fm | Join my Book Club