The Bane Chronicles – Cassandra Clare
Part of the Shadowhunter World (the last story is set before City of Heavenly FIre)
Young Adult
Publication date: November 11th, 2014
Character Guide ⇩
►Magnus Bane → Main character, warlock, cat eyes
►Ragnor Fell → Warlock, green skin, Magnus' friend
►Catarina Loss → Warlock, blue skin, white hair, Magnus' friend
►Edmund Herondale → Will Herondale's father
►Linette Ownes → Will Herondale's mother
►Camille Belcourt → Vampire
►James Herondale → Will and Tessa Herondale's son (his parabatai is Matthew)
►Tatiana Blackthorn → Gideon and Gabriel's sister
►Grace Blackthorn → Tatiana's adopted daughter, looks 16
►Jesse Blackthorn → Tatiana's son, died at 16, reacted badly to runes
►Dolly → Vampire, looks 16
►Alduous Nix → High Warlock of Manhattan, roughly 2000, looks late 50s
►Guadalupe Santiago → Raphael's mother
►Raphael Santiago → Vampire
►Alec Lightwood → Magnus's ex (ni the last story)
►Isabelle Lightwood → Shadowhunter, Alec and Jace's sister, total badass, deserves more page time
►Clary Fray →  Shadowhunter
►Jace Herondale → Clary's boyfriend, Shadowhunter
►Simon Lewis → Vampire, Daylighter, Clary's friend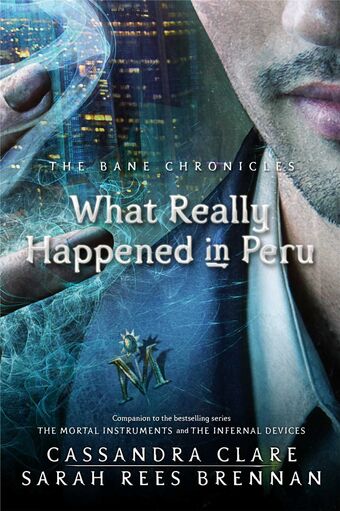 01 What Really Happened In Peru
⭐⭐⭐
TW: death, getting drunk, vomit, loss of a loved one (past), suicide, rape, racism
"You think pirates are out to steal your bird droppings?"
Magnus is damn lucky he has such good friends, I wouldn't be able to cope with it.
I like Ragnor Fell a lot, I think I'm a lot like him, honestly. Interestingly, he's a lot like Alec except green and he has magic. So, clearly Magnus has a type.
A kind of underwhelming ending/answer but overall a fun and light story. I'm still not sold on Manus though!
I've never really liked Magnus as a character so I'd really love to be able to get to know him more as a character as we know basically nothing about him from The Mortal Instruments. I get the idea that this entire bind up is going to be mostly short stores that don't actually reveal all that much about Magnus, but I would love to be proven wrong on this.
02 The Runaway Queen
⭐⭐
"It was a very bad idea. It was a terrible idea. It was the worst idea he had ever heard. It was irresistible."
What I'm getting from this bind-up so far is that Magnus drinks a lot (too much) and makes bad decisions.
Magnus is very unlikeable in this story; rich, spoilt and snobbish
Where the first story was fun and easy to read, this was boring and served to make me dislike Magnus more than I already did.
Very boring! It felt like a throwaway story!
03 Vampires, Scones, and Edmund Herondale
⭐⭐⭐
"I do not mean to seem indelicate or ungrateful," said Linette Owens, "but are you a dangerous lunatic?"
TW: species racism, racism, misogyny
So far Edmund Herondale, while I do like him, seems *very* similar to Will, I guess makes sense since he's Will's father but, really the only difference between the two is that  Edmund says "capital" a lot. I don't know if this is lazy writing or if it makes a lot of sense at this point.
Definitely the best story so far, but it's only going to mean something to you if you've read The Infernal Devices. An interesting focus on politics and species racism + we get to see how the Herondale name became disgraced but overall, still pretty boring and I found myself wanting to skip parts just to get to the end.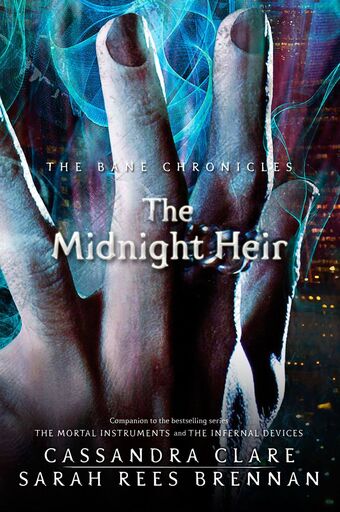 04 The Midnight Heir
⭐.5
"I was everything I was asked to be, and as my reward my life was burned to ash."
TW: miscarriage/loss of a child (past), misogyny
This story is making me realise how absolutely done I am with reading about angsty, overconfident boys who can't get their overconfident, egotisitcal heads out of their own asses. 
It took me 3 tries to finish this story. I was so bored by it all. 
Some good quotes but overall, I jus tdon't care about these characters. 
05 The Rise of the Hotel Dumort
⭐
honestly, i was so bored reading this that i forget to get a quote and have since taken my copy back to the op shop i got it from, sorry 'bout that folks
TW: smoking, mentions of sucide, alcoholism, getting drunk, death, dead bodies, blood
Very boring
A lot of descriptions of different rooms
Takes a long time to get to the point, only to have no pay off. I think this can be said for all of the stories in thie collection though.
06 Saving Raphel Santiago
⭐⭐.5
"He knew that this girl could be a monster if she wanted. He knew that he could be  amonster himself."
TW: death, murder, murder spree, sucide attmpt, talk of madness, phyical abuse, torture, killing for sport or fun
Magnus is a private eye??
Occasionally interesting and I liked learning more about Raphael but Magnus is an incredibly irritating character so ironically, I wish he hadn't been in the story. 
Ultimately not worth reading, much like the other stories this was pretty boring.
07 The Fall of the Hotel Dumort
⭐
No quote again, what has gotten into me! Sorry!
TW: drug use, drug addiction, drinking blood, murder, death
I think I've finally figured out why I don't like this bind-up. I went into this with the intention of learning more about Magnus and with the hope that I would grow to or learn to love him as a character. But I'm seven stories in and honestly I haven't learnt a thing. The best stories so far have probably been 1 and 6 because they've been the most memorable but otherwise this collcetion has had no substance and has been completely fogettable. Honestly, I feel like this entire bind-up has been a waste of time.
This world and how Shadowhunters treat Downworlders is remind me a lot of today's climate.
I straight up didn't understand this story. It felt like there were chunks missing and I didn't understand why some characters did the things they did, particularly Camille. 
Bad pacing.
08 What To Buy the Shadowhunter Who Has Everything (And Who You're Not Officially Dating Anyway)
⭐⭐⭐
"He has to accept it. There was no way around it. There was no one else he could turn to. He was goin gto have to call Ragnor Fell and ask for advice about his love life."
Set in modern day.
FInally a story that didn't take me hours to get through!
THings got better when Alec and Izzy got involved!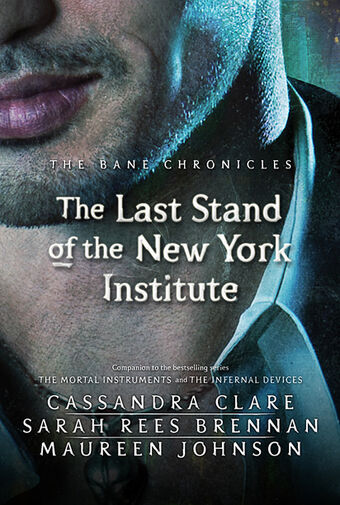 09 The Last Stand of the New York Institiute
⭐⭐⭐
"Every age thought they were to enlightened, and every age was stumbling around in much the same darkness of ignorance and fear."
TW: homophobia, mentions/discussions of HIV, racism
Bigger focus on The Circle and the effect the group had on Downworlders. 
Probably the most interesting story but by this point I'm too over the collection to really care.
10 The Course of True Love (And First Dates)
⭐⭐⭐
"Magnus had heard the story of how the Nephilim were created many times. They had left out the bit that said; And the angel descended from on high and gave his chosen ones fantastic abs."
Finally some content I care about. I wish I cared more about the two individual sides of Malec but unforunately I only care about Alec. 
I much prefer the modern day stories!
11 The Voicemail of Magnus Bane
⭐⭐
"You wouldn't like Church when he's angry."
Wow, way to end a bind-up on a sad note. What a downer! 
All in all, this was a pretty pointless addition to the Shadowhunter world and if I had have known that it was necessary for me to read it and still rea the other books I would have skipped it entirely. I wanted to understand why everyone loves Magnus Bane but now I'm just more confused than ever. I am offically not a Magnus Bane stan! 
You definitely don't need to read this to understand any of the other books in the Shadowhunter world so please don't waste your time. (If you insist on reading it, make sure you read the last story after CoLS)
Are you a Manus stan?
What was your favourite story in the collection?
Goodreads | StoryGraph | Instagram | Letterboxd | TV Time | Twitter | Tumblr