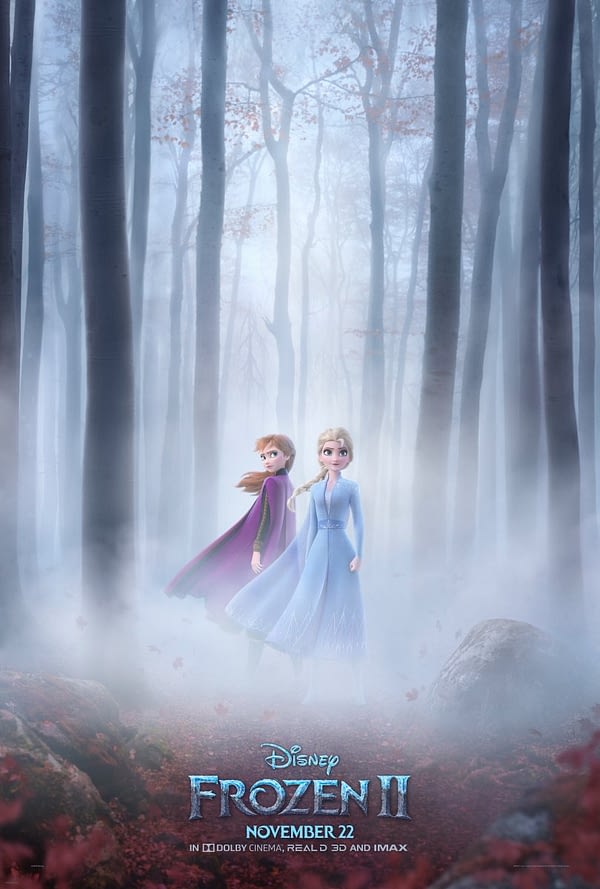 Title: Frozen II (2019)
Director: Chris Buck & Jennifer Lee
Series? Sequel, 2/?
Genre: Fantasy
Triggers: Talk of dead parents, death
Release Date: 28 November 2019 (Aus)
★★★★☆
---
Hi everyone, welcome back to my blog! Today I'm coming at you with my spoiler-free review of Frozen II! I've only seen the movie once so far, but I'll be seeing it again soon!
I will have a spoiler review up soon as well as other Frozen content later this week!
WHAT I LOVED
I have a lot of notes, so forgive me if this review seems a little bit disjointed!
I really loved the music in this movie, it feels different from the first movie, but I think it really suited the film! I will 10,000% be listening to the soundtrack for the rest of 2019. I will also definitely be seeing the movie again! Also, just in case I have some older/unsure readers, I dragged my mum along to see it with me and she really enjoyed it & says she'll see the 3rd one with me when they inevitably make it!
The animation was also amazing! The characters and backgrounds (especially the autumn background we see in the poster and trailers) are absolutely stunning! I think Elsa looks especially amazing, her outfits and makeup consistently blew me away! Just in general, this is one of the most beautiful movies I've probably ever seen, it's definitely the best-animated film of the year, visually!
I can't believe it's been 6 years! I was 13 when the first movie came out! Now that I'm writing this, I'm starting to feel old lol. I really do hope they won't wait too long between now and the next movie though!
The movie manages to balance it's moods and tone very well! It is more serious but also has come great lighthearted moments, mostly featuring Olaf! We also get some great comic relief from Sterling K Brown's character, Mattias though, especially when he's in a scene with Olaf. Frozen 2 had a really great balance of comedy, maturity and wonder, which I really appreciated.
I do really hope we see more of Mattias in Frozen 3 because he had some great reactions and lines and I really liked his character! Speaking of new characters, I also really loved Bruni the salamander, he's absolutely adorable! I also really enjoyed learning about the Northuldra tribe, though we didn't focus on them as much as I would've liked. Basically, this movie did a really good job of giving new side characters depth with subtle additions to scenes and I really appreciated it.
The movie also has some amazing posters!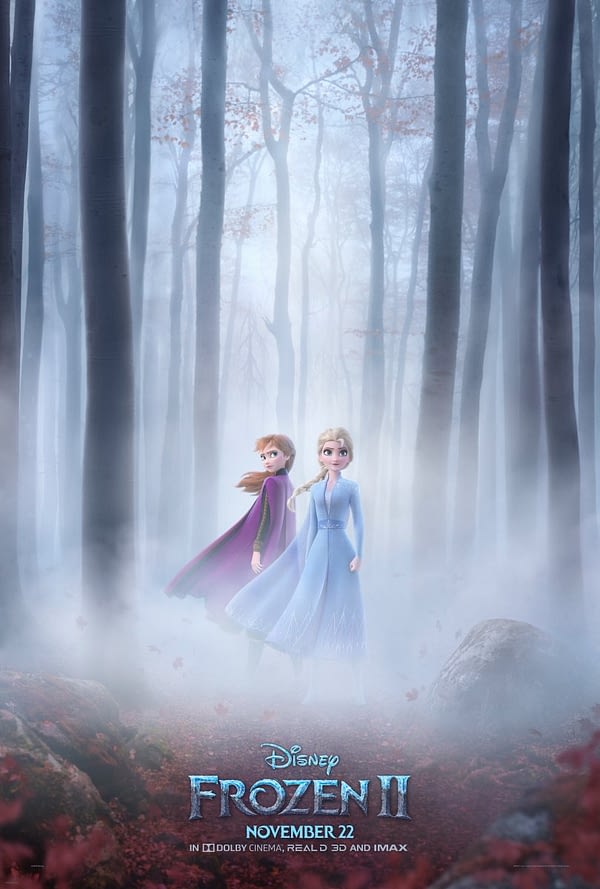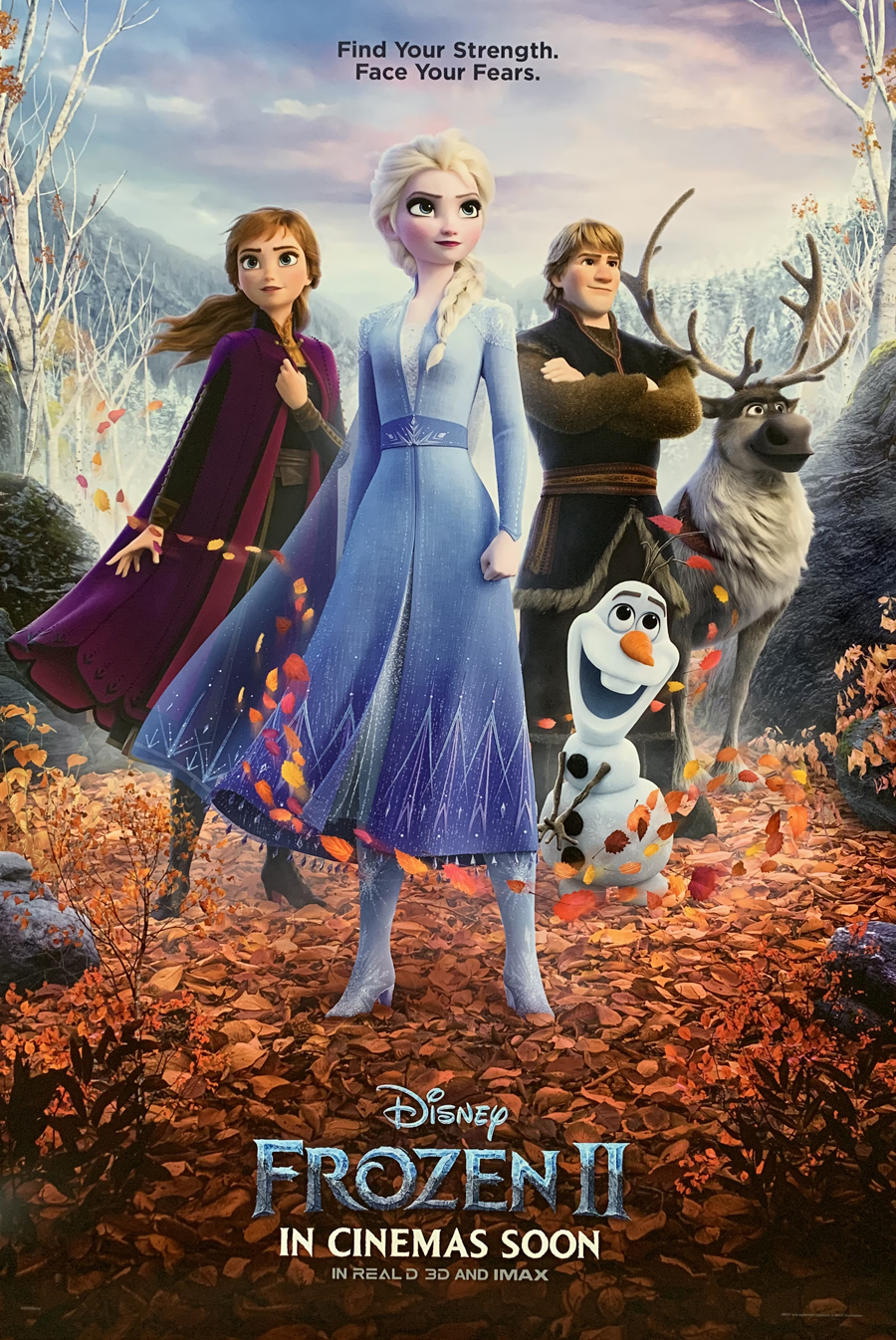 THE EH
Anna definitely didn't get the best songs in this movie. She got a good message and some subtle character development but Kristoff really got the best song scene and Elsa, rightly got the best songs for the movie and vocally she got the best long notes.
Anna gets a good 'message' song but I didn't enjoy watching or listening to it tbh, which I feel like really sucks because most everyone else got a good song.
The movie was a bit predictable. Like, I predicted stuff based off colour coding within the first 20ish minutes & I thought the actual conclusion could be seen miles away BUT I think it's important to remember that this is a children's movie. It looked spectacular, the soundtrack was amazing and most everyone in my cinema was silent the entire time which I recognise is not easy for little kids – so it's a good film for everyone!
It feels a little rushed/short but it's still really fun & if you liked Frozen 1 I think you'll like this too, especially if you're an Elsa fan!
The beginning (roughly 10-15 mins)  was a bit eh and I wasn't sure how I was going to feel about the movie but as soon as the plot kicked into gear after the first song I was LOVING it, I had a smile on my face the whole time! I probably looked like Christmas came early.
OTHER
I won't spoil but I will say that I found the trailers misleading! I came out of the movie having seen something completely different to what I was expecting!
There's a small end-credit scene that definitely isn't a must-see but if you don't mind sitting through the long credits it's still pretty fun! (Otherwise, you can probably find it on YouTube!)
I can't tell which soundtrack I liked more. Frozen 1 was more about the moment & the song but Frozen 2 sort of kept on with the story so the songs feel different in this film – more wordy, continuing the plot kinda thing, they're less grand scale and more about continuing the story. Honestly, I know nothgin about music so I really don't know how to explain it. But if you listen to both soundtracks you'll be able to hear the difference. I still really like the music though, I wasn't sure I would a first because the first song was a bit rocky, but I've been listening to each soundtrack since I saw the movie and I'm not sick of them yet.
I thought I would make a note about the diversity. I'll talk about it more in my spoiler review, but I know a lot of people were hoping for some LGBT+ rep and sadly, there is none. Like, absolutely zero. Everyone is straight and 98% of this movie is white.
Honestly, so far Disney's representation has been absolutely sketchy, especially when it comes to the lgbt+ community so I really think they either need to say yes, and commit or just say what we already know and stick to straights. There was very little diversity in the first one, and while there's more in this one there is no lgbtq+ rep at all and I'll get into this in my spoiler review, but there was some biracial rep that I found sketchy which I really want to talk about.
[YOU CAN FIND EVERYTHING ELSE I'VE BEEN WATCHING ON LETTERBOXD]
HOW MANY FROZEN MOVIES DO YOU THINK THEY'LL MAKE?
HAVE YOU SEEN FROZEN II YET?