Hey everyone, welcome back to my blog! Today I'm doing something a bit different and coming at you to talk about some of my favourite Doctor Who episodes. I'm just going to talk about New-Who (Eccleston onwards) episodes because unfortunately, I've only seen a few of the Classic-who episodes.
Doctor Who is one of my favourite tv shows of all time, it's definitely in my top 3. I haven't liked the newer seasons as much but I am a big big fan of the earlier seasons, so you can expect a lot of my favourite episodes to be pulled from those seasons!
Keep in mind, there will be Spoilers!
10 (least) – 1 (best) → Keep in mind I love ALL of these episodes!

10.  A Good Man Goes To War (6×07)
Rory Williams! Just in general, this is a good episode, But, these are all good episodes, so this is when we finally learn who River Song is and we finally meet Madame Vastra and Jenny who are some of my favourite characters!
9.  Silence in the Library / Forest of the Dead (4×08 & 4×09)
These are by no means my favourite episodes ever but I do really love the Vashta Narada as a villain, sort of like the Weeping Angels, its very difficult to defeat them and it really shows you how smart The Doctor is. This is also when we meet River Song for the first time. I really love this "plot twist" because we don't learn who she is for so long and I love payoffs that take more than a season to work. I think it's amazing that we were introduced to her character so early on and while this isn't my favourite in terms of actual DW content, it is my favourite because it's kind of painful to go back and watch? Because The Doctor is literally meeting his future wife and has no clue who she is so he kind of ignores her and that my friends, is painful so I'm going to stop talking about it.
8.  School Reunion (2×03)
I'll talk about this again higher up the list but I love this episode because it shows the characters as a group which is something I live for in the earlier seasons. I also really loved being able to see a past companion of the Doctor's being able to see him again and talk to him. I think that that's one of the things I don't like about the show is the Companion's are either killed off or move on and never see The Doctor again, so Sarah Jane Smith, who's one of my favourite characters anyway, being able to see The Doctor again and work with him felt really special to me. Also, if you haven't seen her spin-off show, I highly recommend giving it a watch!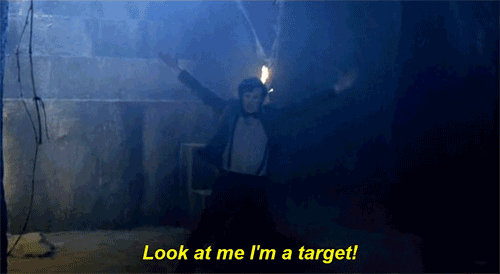 7.  The Pandorica Opens / The Big Bang (5×12 & 5×13)
Rory Williams deserves the world and that's the truth. Also, Rory and Amy finally get married! This is also the episode that I think Rory shines the most – we finally get to see how much he truly loves Amy and we see that he literally waited 2,000 years to be with her. Also, I always forget that this technically makes him older than The Doctor which I think adds something to the dynamic between Rory and The Doctor.
This scene is slightly spoilery but if you want a little bit of Rory incentive to get you to watch this season, I really recommend taking a look at this clip, it's one of my favourites.
6.  Turn Left (4×11)
I love episodes like this. Not only is this the sort of breaking point in season 4 where everything starts to roll into motion and the main plot really gets going, but it's also an exploration of Donna's character. And I LOVE Donna. It's the whole "What if"situation/ trope that I adore. What if Donna had never met the Doctor? What if she'd turned left? What if what if what if, and I love it. I feel like we really got a more in-depth look at the consequences of a life with or without The Doctor and that's why this episode means so much to me, it's just so completely different to so many other episodes on the show. Also, Rose.
5.  The Stolen Earth & Journey's End (4×12 & 4×13)
I love these episodes because even though the end of season 4 makes me so so sad, particularly because of Donna, we really get to see all of 10's companions interacting, which is something that rarely ever happens. Season 4 is actually great for this if that's something you enjoy. I love being able to see all of these vastly different personalities come together and basically bond over the experiences with The Doctor and basically not even need to know each other because if he trusts them then they trust each other if that makes sense? Honestly, I wish we sam more episodes like this, it feels like a great payoff and it always gets the waterworks going.
4.  
The Impossible Planet / The Satan Pit (2×08 & 2×09)
Y'all! If you're a Rose x 10 shipper then you already know how I feel about these episodes! We were truly blessed in season 2, and while I don't love the villain or the background characters in these episodes, I do really love Rose and 10 in these eps. They basically get trapped without the Tardis and have to talk about maybe living together and it's super cute and makes me very emotional just thinking about what could've been. So, while this is rarely my go-to episode when I'm in need of a comfort watch, but if I'm re-watching the whole season this is one of my favourite episodes to watch.
3.  
Blink (3×10)
This is when we're introduced to the Weeping Angels and this is without a doubt, the episode you should watch if you want to get into DW or if you want a friend to start watching the show. This episode incorporates a lot of the DW mythology and also has a really great monster as well. This is also somewhat of a standalone episode, so it's a great place to get into the show without being spoiled for any pat events, though I would, of course, implore you to then go back and watch past seasons. 
2.  
Tooth & Claw (2×02)
Oh my God, Y'all. The feels! This episode does so much for me and I love it. We've got some major Rose x 10 moments, Rose taking the mickey out of everything & 10 just going along with it & David Tennant using his normal Scottish accent and I love it! Also, this episode is 100% the reason I say "I am not amused" so much irl. This is without a doubt one of my absolute favourites visually, because of the dialogue & because of all the Rose x 10 scenes!
1.  Doomsday (2×13)
Season 2 is without a doubt my favourite season of DW available and I think that this episode, while I rarely watch it because it's so god damn sad, really shows how well Rose and 10 work together and I think it really shows how well the show stands by itself that I can still rewatch episodes and have the exact same reaction years later. This episode means SO much to me, not only because it's about my favourite characters and because it still has an impact in later seasons but because I'd gotten attached to these characters and it was absolutely heartbreaking that the characters got torn apart.
Honourable mentions
The Eleventh Hour (5×01)
The Idiot's Lantern (2×07)
Angels Take Manhattan (7×05)
If you enjoyed this post, let me know because I'd love to do more posts like this in the future!
DO YOU WATCH DOCTOR WHO?
WHAT ARE YOUR FAVOURITE EPISODES?