Hey guys, welcome back to my blog! Today I'm coming at you with a new series here on my blog, called "Catching Up". This is going to be a year-long series all about catching up on the books on my shelves (both physical & Goodreads) that I feel like I've missed out on, but am making a point of reading now! These are all books I feel are genre staples that I've missed out on, as well as books I really feel like I should have read by now but need some motivation to actually pick up!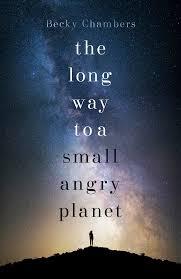 This month for my new series I decided to read The Small Way To A Long, Angry Planet by Becky Chambers. I've been meaning to read this for years because I had heard so much about the fantastic diverse cast and I had heard that it was also a pretty slow read that is really different & would make me cry.
SO … WHAT DID I THINK?
Honestly, I put this off for years and years because I was so intimidated by it. I decided late in December that I wanted to start the year off by reading a trilogy so I put this trilogy on hold at the library, grabbed the audiobooks and decided that I would read this in January, or it just wouldn't happen!
I managed to go into this book spoiler-free so I really loved that about it, I had literally no idea what to think about it. I think it's best to go into the story that way, too. The story is a bit slower and based a lot around the main cast characters. This book is very much a mix of all the good things from Zenith & The Raven Cycle. It has a great cast of characters, all completely different to each other and it also has the great strong female relationships thing that I think Zenith was missing.
Something else I really really enjoyed about this book was how slow the book was, and how character-based and unreliant on a plot the book is. The main group is 9 characters which seems like a lot, and honestly, it is because I had to write a character guide, but once I wrote my guide everything was making so much more sense! Once you really get going with the book it's so much fun to read!
WHAT I LOVED
Diverse characters (sexuality, race, gender)
A really interesting read with unique characters
Good writing
Great friendships, minimal romance
Subtle commentary that I loved!
No gross, cocky characters (thank god!)
No info dumping!
Not plot heavy
THE NEGATIVES
Some really long chapters that can grate on you depending on what time you're reading at
Easy to confuse characters without a character guide
The only thing I really wasn't a fan of was how long some of the chapters are. Some of them are 30 pages which is A LOT. But, really that's all! I really enjoyed this book, and enough to read the second and third books immediately after!
Overall, I'm so mad at myself for waiting years to read this book just because I loved it so much and I'm sure it would have been the perfect found-family story for me to read after I finished reading The Raven Cycle!
I'm really happy that I finally pushed myself to read this and that I loved it as much as I did. I can definitely see myself re-reading this in the future because I loved the friendships so much, though I can't say the same for the other books in the trilogy! I'm excited to see what else the author puts out next because I just loved the characters so much!
WHAT SHOULD I READ NEXT?
HAVE YOU READ THE WAYFARERS TRILOGY?