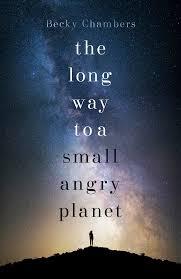 TITLE: The Long Way to a Small, Angry Planet
AUTHOR: Becky Chambers
SERIES? Wayfarers #1
GENRE/ AGE RANGE: Sci-Fi, Young Adult
TRIGGER WARNINGS: Death, Violence, Swearing (f word), Inter-Species Relationships, Racism, Racial Slurs, Discussion/Remarks abt. sex, Discussion/Memories of war
TAGS: Lgbtqia+, Diverse, Bi(?) Mc, Sci-Fi, f/f relationship
PUBLICATION DATE: July 29th, 2014
ACQUIRED: Owned copy
---
★★★★★
THE PROS
This book is a total whirlwind! The Long Way To A Small, Angry Planet is really diverse in types of alien species, skin colour and sexuality, in general. It's an interesting world with interesting and unique characters. There isn't much of a plot as the book is very much character-based, it's sort of like The Raven Cycle in space and I loved it.
There's also some subtle commentary set throughout the novel on all different things from vaccinations to homophobia and sexism.
The main thing that was going through my head the whole time I was reading this was that this felt like a better written, more diverse and properly edited version of Zenith. If you want a great character-based story with a wonderful found-family main group whizzing through space and being generally amazing, then this is the book for you.
THE CONS
There are mostly pros to this book because the characters are all such a good working team together but, with a huge cast of characters comes a problem: I can't remember them all. I had to make a character guide for each book in this series (which you can find in the spoiler sections in my Goodreads reviews) because there are so many characters and once you've met them, even in passing, you're expected to remember who they are even if they only appear once or twice in the novel!
It's super easy to confuse the characters, which I did several times throughout the novel. The events going on in the book are really fun and interesting but the actual characters are easy to confuse and I had a lot of trouble understanding the difference between some of them in the first 100-150 pages.
The last and pretty much only other thing that I didn't appreciate about this book was how long the chapters were. There were a couple that were super super short but so many of them were roughly 30 pages each, which feels longer when you're on your third hour of reading and you're getting a bit tired. Honestly, long chapters are just exhausting to read and I don't love them.
TITLE: A Closed and Common Orbit
AUTHOR: Becky Chambers
SERIES? Wayfarers #2
GENRE/ AGE RANGE: Sci-Fi, Young Adult
TRIGGER WARNINGS: Speech impediment, Breaking the law, Racism, Swearing (f word), Abuse, Commentary on motherhood/parenting, Animal cruelty, Death of dogs/animals, Eating dogs, Anxiety, Trauma
TAGS: Lgbtqia+, Diverse, Sci-Fi
PUBLICATION DATE: October 20th, 2016
ACQUIRED: E-arc copy via Netgalley – Hachette Australia
---
Thank you to Hachette Australia for supplying the e-arc via Netgalley in exchange for an honest review.
★★★★☆
This one really pulled on my heartstrings but I definitely didn't enjoy it as much as I did book 1. That being said, I did read book 3 pretty much immediately after finishing it.
So, book 1 was a really fun mix of The Raven Cycle and Spacenerds which was really fun to read about. Book two is significantly different to the first! Book 1 is a fun found-family story, book 2 is a sadder story that focuses more on what it means to be human which is totally dramatic but oh well. Book 3 is a totally different story but I'll save that for further down in this review.
I definitely enjoyed book 1 more than this, but I'm still glad that I read it. I enjoyed all the characters and once again, this is definitely more of a character story than a plot-based one. I really loved exploring Lovey's story but I much prefer the other story throughout the book because I really think I find survival stories much more interesting, especially when the main character is so smart!
I still think that this trilogy shouldn't have been a companion trilogy and that this book could have been cut into two shorter novellas and the small plot from book one could've been turned into a really interesting duology.
TITLE: Record of a Spaceborn Few
AUTHOR: Becky Chambers
SERIES? Wayfarers #3
GENRE/ AGE RANGE: Sci-Fi, Young Adult
TRIGGER WARNINGS: Swearing (f word), Racism, Death,
TAGS: Lgbtqia+, Diverse, Sci-Fi
PUBLICATION DATE: July 24th, 2018
ACQUIRED: Library copy
---
★★☆☆☆
Wow. This was a whole lot of nothing. If you want to read about a bunch of people going about their days and doing nothing this is perfect for you but if you want something, literally anything, to happen in the book you're reading you really shouldn't pick this up. Book 1 was really great, book 2 was interesting and book 3 was boring. I recommend just reading book 1 as a standalone or maybe just leaving it as a duology.
Honestly, if I was going to describe this book in just one word it would be dull but, uneventful, time-wasting and pointless also work for me too. I'm not mad that I read this, I'm just annoyed that it was so categorically and catastrophically awful.
I don't want to dissuade anyone from reading the trilogy so I'll keep this short:
It's hard to differentiate between points of view. All the characters are different, they do different things but feel the same. There are 70 yr olds and teens. There are characters on ships and others on planets but I can't remember any of these things without notes.
I just straight up didn't like the characters and the whole book was just so incredibly vague that honestly, I was just more annoyed reading it than anything else. Basically, nothing happened, the characters are all boring as batsh*t and all interchangeable & it made no sense as a finale to a trilogy.
That being said, books one and two are both totally worth the read and I really do think there's something to take away or learn from them both, so please give them both a try!
HAVE YOU READ THE WAYFARERS TRILOGY?