2018 has been a year of reading all different types of books this year, so my Goodreads challenge is full of all different genres and age types which I"m really happy about. Today I'm talking about the 5 most underrated (in my opinion) book that I read in 2018! I'm talking about all the top 5 books I read this year that I think more people should definitely be talking about!
*Remember to click on the covers to go to the Goodreads pages
A STUDY IN CHARLOTTE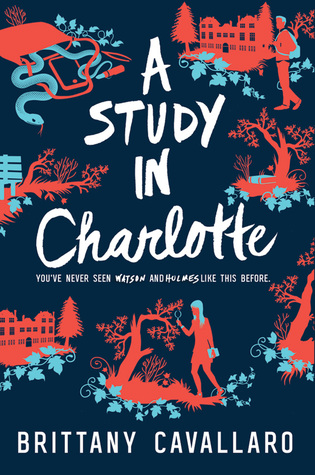 This book was honestly so much fun! I really enjoyed the cool kind of mystery plot as well as the "new" types of Sherlock Holmes and John Watson as the main characters are descendants of those characters. This book even made me want to start watching the Sherlock tv show again, which I think is quite a feat.
This series is a lot of fun with some really interesting characters and mysteries, the first book is set in a school but still has a bit of an "adult" feel to it which I really enjoyed about it.
THREE DARK CROWNS
I do have a review of Three Dark Crowns that I wrote earlier this year, which you can read here. I have fully fallen in love with this series this year and I am especially excited to finish it off next year because I love the characters and the direction the series is taking!
This series is really dark and really complex and thought-provoking – it's about three sisters having to fight to the death to win the crown to rule the kingdom and honestly if that sounds at all like anything you might enjoy you should definitely pick up Three Dark crowns! This is a really brilliantly thought out series and I love it a lot!
SOURDOUGH
I have never in my life read a book and felt inspired by it. I don't know if that's the norm for you guys, but it is just something that has never happened to me until I read Sourdough by Robin Sloan. I love this book it simply made me happy. Not only did it completely inspire me to try new things in the kitchen and to go out of my comfort zone, baking-wise which I did immediately after finishing it!
Sourdough, more than anything else, just made me really happy! I'm not exactly sure what about it I loved but, there was seriously something in either the writing or the characters because my dumb-ass wrote a one-word Goodreads review that basically tells me nothing when I'm looking back.
HOGFATHER
What I love about this book is that it's not too long, it's totally original and it can be read as a standalone! Hogfather is so much fun and I love it so much, it's literally about Death taking over as Santa Clause for Christmas because of course, I would love that! I really enjoyed this book a whole lot, and I actually talked a lot more about it in my Christmas reads recommendations post I wrote earlier this blogmas but, I actually enjoyed this enough that I intend to start the rest of the series next year!
FAITHFUL
As you can see from this post, I have read a whole bunch of different books this year, and Faithful is no exception! I read this pretty early on in the year so my memory is a bit foggy on it but I do know that originally I really didn't think I was going to read it, but my mum pretty much bullied me into it. And, again like with Sourdough, my Goodreads review was completely unhelpful and consisted of only 2 words so sheers to me, I guess.
That being said, this is a great book about dealing with past trauma and guilt, it has dogs, and a sort of morally grey/ unreliable narrator but is also really heavy, so if you have any triggers please look them up in reviews before giving it a go!
WHAT WERE YOUR MOST UNDERRATED REAS OF 2018?
HAVE YOU READ ANY OF MY UNDERRATED FAVOURITES?