Hey guys! Today I'm coming at you with a new discussionish-list type post for you guys! I enjoy being able to be more personal in a blog-ish kind of way, so I thought this would be an interesting way to introduce you to my anxiety, and how it effects me blogging most of the time.
NUMBER ONE – DOUBT
Okay, but was my blog post actually good though?
This goes through my head before I write a blog post, while I'm writing it and after I've written it. It's a bit ridiculous and I have definitely drafted or trashed fully written blog posts just because of this question. It's a total bummer but I'm trying my hardest to stop listening to that part of my brain and just go with my gut.
#2 – STATS
Stats are a big thing for me, even though they never really used to be. Stats are pretty crazy – sometimes I'll get great comments and views for something I put limited effort into, and no views for something I put hours of work into.
So, basically this point is just me constantly going, I was so proud of this blog post, why am I getting no views???
NUMBER THREE – SOCIAL MEDIA
I don't really advertise my blog – I include the link in my bios but I don't really talk about books or blog posts unless I'm on Twitter. So, the thing that's always on my mind is whether I should be trying harder to advertise my blog on other platforms – but at the same time, social media is exhausting and shouldn't having a blog be enough?
#4 – SCHEDULING STRESS
This doesn't apply to this month as much because I've come to terms with posting more than one blog post per day to make writing out my month on my calendar much easier. I just want to stick to my schedule (Monday, Wednesday, Friday) without missing a day or having too much t post in one week. I always feel like I'm letting myself down whenever I skip a day, which is obviously not good on any account.
NUMBER FIVE – I AM NOT MY AUDIENCE.
I love my audience but I am not my audience. I like to talk about comics and graphic novels and you guys generally don't read those posts. I also love to talk about other types of media, but again, they're not as popular. I also occasionally talk about my disability and other behind the blogger kind of stuff, which rarely gets any views.
So, should I stop?? I feel like I don't always cater to my audience and I'm constantly torn between writing what I want and writing what will get the views, which isn't to say that I dislike any of the things I publish, but sometimes I would rather publish something else but for whatever reason, decided not to.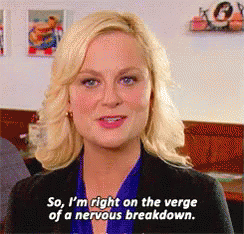 #6 – MY CONSTANT NEED TO BE BETTER
I feel like I am constantly having to do better. Better graphics, better discussions, better topics, Reply faster, write more interesting blog posts and get better stats. I know this is a terribly unhealthy mindset to have, but it's not something I have ever managed to avoid since I started my blog.
NUMBER SEVEN – WHAT CONSTITUTES A "LITTLE BLOGGER"?
I've been blogging for almost two years and I still feel like a little blogger. I am constantly going back and forth between whether this is a good thing or a bad thing.
I love having a smaller community or regular commenters and friends – not only does it make me feel like I know you guys better, but it also helps anxiety-wise. I have fewer comments to reply to and that means less work and less to stress about if I forget to reply to comments.
That being said, I also really appreciate getting lots of comments on my blog – it tells me you guys like or dislike a particular topic or type of post and it lets me talk to you guys more and invites more discussions.
#8 – I'M TOO METICULOUS WITH MY BLOG POSTS?
I will literally stay up all night to finish this blog post so help me, Jesus. I have actually been writing this blog post for at least an hour or two and I am literally writing through my stomach pains (thank god for my new heating pad).
Honestly, writing this post is just showing me that I am too stubborn and that I really don't take enough care of myself.
NUMBER NINE – NOT READING "ENOUGH"
Do I read enough? Is it okay that my reading has gone down and I still talk about books on my blog?
Honestly, this is the question that is constantly bugging me. Sometimes I'm totally okay with not reading as much as I used to, or not reading as many high fantasies as I'd prefer to. Reading more all the time is generally an unrealistic expectation because I still have Uni, but, the rest of the time, I am much more critical of myself and feel bad about never reading as much as I used to.
#10 – CONTENT DILEMMA 
Will people still read my blog if I talk about different content?
This pretty directly correlates to point 5 because I am always debating whether I should talk about content other than books. I would love to talk more about tv & movies as well as my disability and/or other personal things.
WRITING THIS LIST REALLY SHOWED ME HOW BADLY I TAKE CARE OF MYSELF. CAN YOU RELATE TO ANY OF THESE?
WHAT BLOGGING PRESSURES DO YOU DEAL WITH?
HAVE HAD