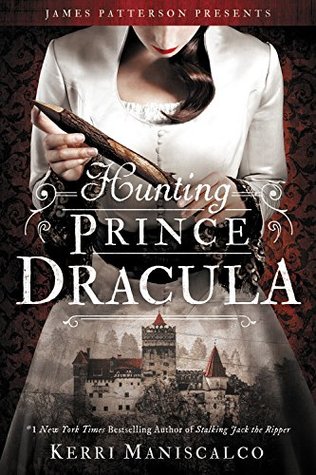 TITLE: Hunting Prince Dracula
AUTHOR: Kerri Maniscalco
SERIES: Stalking Jack The Ripper, #2
GENRE/ AGE RANGE: Mystery, Young Adult
PUBLICATION DATE: September 20th 2016
ACQUIRED: Bought
SYNOPSIS: Following the grief and horror of her discovery of Jack the Ripper's true identity, Audrey Rose Wadsworth has no choice but to flee London and its memories. Together with the arrogant yet charming Thomas Cresswell, she journeys to the dark heart of Romania, home to one of Europe's best schools of forensic medicine…and to another notorious killer, Vlad the Impaler, whose thirst for blood became legend.
But her life's dream is soon tainted by blood-soaked discoveries in the halls of the school's forbidding castle, and Audrey Rose is compelled to investigate the strangely familiar murders. What she finds brings all her terrifying fears to life once again.
---
book 1 | book 2 | book 3 [LINKS]
This is such a tension-filled and fun mystery! It's full of feminism, mystery, murder and an amazing setting! Honestly, now that I've read this one I kind of want to go to Romania, which is saying something because I'm really not a traveller.
Also, just a quick mention but there is a f/f romance in this book between two important characters so that was lovely to see!
"Monsters were in the eye of the beholder. And no one wanted to discover their hero was the true villain of the story."
CHARACTER DEVELOPMENT
The development n this book is pretty solid and a definite improvement from book 1! I talked about this in my review, but book 1 Audrey Rose doesn't handle feminism very well. But, in this instalment, her commentary on other women improves tenfold. In the first novel, she couldn't stand women who were okay with marriage or who didn't mind the if they had set out for them. Whereas, in Hunting Prince Dracula she's a lot more respectful of the women around her and she has an appreciation for them even if they don't want to follow the path she does.
We also learn more about Thomas throughout this novel which was really interesting. He's kind of elusive throughout the first novel so getting to know him more, especially considering he's the love interest, was really cool. His character develops a lot emotionally and in terms of learning how to act around other people and he also reveals a lot about himself throughout the story. So, he is one of the highlights of the novel since he's such an up and down character in the series. Honestly, Thomas is one of the main things I'm most looking forward to for book 3.
"Perhaps it was time for fathers to teach their sons how to behave around young women. They were not born superior, no matter how society falsely conditioned them. We were all equals here."
WORTH A MENTION:
Hunting Prince Dracula definitely has the best background and atmosphere yet! This book has a brilliant atmosphere to it that totally suits the mystery and tone of the novel – HPD is a lot darker than Stalking Jack The Ripper, even the title sounds more menacing!
Another thing I really loved about this book was mental illness. It's not explicitly said, but Audrey Rose definitely has PTSD. I think it's generally agreed upon that she's suffering from it because of the events of book 1. I mean, how do you come out of that unscathed anyway? I think her PTSD is also really well represented, so that's a plus as well!
And now the real kicker! Two words: Sexual tension. Oh my god, you could cut the tension with a knife it's A LOT. And. I. Love. It. Audrey Rose and Thomas have such good banter and respect for each other and it's really great to see that level of respect ina romantic pairing in YA.
"Monsters are only as real as the stories that grant them life. And they only live for as long as we tell those tales."
This is definitely my favourite book in the series so far, though that being said, book 3 is really close up and I'm definitely excited for it, even though I don't think my preorder will come in on time (damn you, Bookdepository!). This is definitely a brilliant book with fun characters, great development and a phenomenal background in Romania!
You guys should definitely pick this one up if you even somewhat enjoyed book 1! This is such a brilliant step up from the first book, and Escaping From Houdini is coming out tomorrow!
TW: PTSD, Death, Loss, Sexism, Murder/Gore