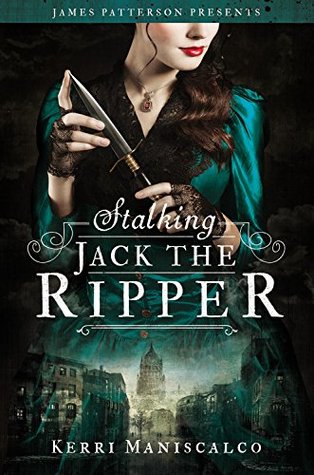 TITLE: Stalking Jack The Ripper
AUTHOR: Kerri Maniscalco
SERIES: Stalking Jack The Ripper, #1
GENRE/ AGE RANGE: Mystery, Young Adult
PUBLICATION DATE: September 20th 2016
ACQUIRED: Bought
SYNOPSIS: Seventeen-year-old Audrey Rose Wadsworth was born a lord's daughter, with a life of wealth and privilege stretched out before her. But between the social teas and silk dress fittings, she leads a forbidden secret life.
Against her stern father's wishes and society's expectations, Audrey often slips away to her uncle's laboratory to study the gruesome practice of forensic medicine. When her work on a string of savagely killed corpses drags Audrey into the investigation of a serial murderer, her search for answers brings her close to her own sheltered world.
---
book 1 | book 2 | book 3 [LINKS]
I love this book. If you've been following my blog at all this year then you probably already know that. Book two is definitely my favourite (so far) in the series but I love this one all the same. This was Kerri Maniscalco's debut novel and wow, for a first novel it's pretty fantastic.
"Death was not prejudiced by mortal things such as station or gender. It came for kings and queens and prostitutes alike, often leaving the living with regrets."
HIGH POINTS
This is definitely not the best book on the planet, but it's fun, it's exciting and I love it. Also, it's a debut novel so give the author credit where it's due. Aka. here. It's a fun mystery with cool characters, a great love interest and fun story backgrounds! In book one we have the classic mystery background of London, in book 2 we visit Romania and in book 3 we get to go to NY and visit the circus. It's kind of amazing and I love it. Maniscalco really knows how to write an enthralling background location.
What I think so many people love about the series, and what I also love about it, is the romance! It's definitely a high point f the series for me! The love interest (not a spoiler!) is not your typical a**hole YA hero. When you're first introduced to him he comes across as pretty coldhearted but as you continue to read the book (and the series) he unravels his outward persona a bit more and we see that he's actually quite different. He's a feminist and actually does have a heart. It's wonderful to see. Instead of pushing Audrey Rose aside, he lets her step forward he lets her save the day.
"There's nothing better than a little danger dashed with some romance."
LOW POINTS
Aside from the issue of Audrey Rose's heritage (it's mentioned once and basically never brought up again), for me, there are only two big and notable downsides to this book. Feminism and the mystery.
This is dealt with much better in the second book but for now, we're just going to talk about the first book! Audrey Rose is a cool and quick thinking character and I love her for that but she also thinks she's somewhat of a special snowflake just because she does autopsies and not many other women are fond of the idea. She seems to think that just because she doesn't want to get married, she can judge the women around her who do. She is incredibly unforgiving towards pretty much all other women in the novel and never really seems to grow out of her way of thinking, so until the second book there's no real development on that front.
You can read more about these two points here in Elise's review.
This is something I've never really had much trouble with, aside from my inability to never guess a plot twist or who the murder is! But, I do know that others have guessed who Jack The Ripper is within the first few chapters. So, while it wasn't a big issue for me, I did want to just point it out for anyone who frequently reads mysteries. That being said, it's the general consensus that the mystery in book 2 is much better!
"Fear is a hungry beast. The more you feed it, the more it grows."
I don't have much else to say other than that I loved the experience of reading this book and I've definitely re-read it a couple of times since my first reading. I really enjoy all the characters and I adore the backdrop of London for this gloomy mystery.
It's a totally ridiculous thing for me to add here, but I will definitely be continuing this series. I've already read (and re-read) book 2 three times this year (I kind of love it a lot) and I am highly anticipating book 3 this week!
I totally recommend this if you love the banter and vibe from the Sherlock and Watson characters. Audrey Rose and Thomas are totally suave and have A++ banter, it's a large part of why I love this series and what I think a lot of people also love about the characters!
TW: Murder, Descriptions of dead bodies, Mystery, Loss, Parental disregard (of children)