Hey guys! I continued my updates for the Marvel-A-Thonso here is my week 3 update!
You can find my weeks two and three updates on my blog.
[Marvel-A-Thon was created by Jamieson @ Jamishelves]
PHASE 2
IRON MAN 3 • Bad Romance
THOR 2 • Ice Wolves
CAP 2 • DP/Spidey Vol 0
✖GOTG • #skip 2
AVENGERS 2 • Wires & Nerve Vol 1
PHASE 3
CIVIL WAR • [rivalry or enemies]
✖DR STRANGE • #skip 3
GOTG 2 • The Loneliest Girl in the Universe
SPIDERMAN • Spider-Gwen Vol 0
THOR 3 • Jane Eyre
INFINITY WAR • The Final Empire
BLACK PANTHER • The Hate U Give
CAPTAIN MARVEL • Spider-Gwen Vol 1
AVENGERS 4 • [know nothing abt]
MONDAY 18
10:02 AM
I have no idea what to read halp.
I know I need to finish Final Draft so I can review it but, I'm not enjoying it and I kinda want to dnf it…
8:32 PM
I just finished reading Spider-Man/ Deadpool Vol 0 and oh my god no. I was in need of a laugh and this was just boring as hell.
TUESDAY 19
Today feels like it's going to be a flop. I do want to read, but I have no motivation to do so, so I think I'll just distract myself with blog posts and How To Train Your Dragon 2 and then tomorrow I'll go nuts with some reading!
WEDNESDAY 20
10:04 AM
So far, I have made a fully purple breakfast (porridge & a smoothie: just add blueberries) and I have also written a few blog posts so I am feeling slightly productive. Now, I' going to put a poll up on Twitter & Instagram to see what I should read next!
You guys will decide between Ice Wolves & Wires and Nerve Vol 1 which will hopefully distract me from my How To Train Your Dragon withdrawals.
8:13 PM
I just started reading Wires & Nerve and so far and I am really loving the art style. I've really stressed myself out in the last hour trying to figure out what my route to and from school is going to be for Uni. Basically, Mon-Wed I'll be catching a 5:30am bus and getting home around 7-8 pm so I am less than enthused about this! But, I'm hoping getting back into the world of The Lunar Chronicles will help calm me down!
THURSDAY 21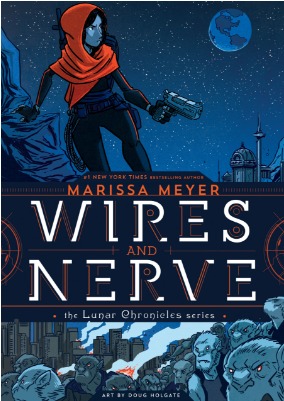 11:35 AM
I just finished Wires & Nerve Vol 1 and I really enjoyed it! It wasn't perfect and I hate her love interest but, Cress and Thorne made my day and totally convinced me that I need to re-read the series asap!
8:29 PM
I really haven't had much reading progress today. I decided to bake some cupcakes and try to convince my parents to help me search for a new laptop (I think I was successful??). I have listened to maybe 2 minutes of Ice Wolves before putting it down. I am mostly just in the mood to watch Friends and chill for the night. I will definitely be picking it back up tomorrow though! Seriously, if I don't finish Ice WOlves by the end of the week you guys need to yell at me!
FRIDAY 22
Guess who hasn't read a single thing today! I've spent most of the day watching Friends and writing blog posts! I haven't so much as picked up a book, though I have discovered a new favourite movie (The Mummy with Brenden Fraser) tonight! I do hope to finally pick up a book tomorrow though!
SATURDAY 23
1:11 PM
I'm finally reading! I just turned on my audiobook for Ice Wolves by Amie Kaufman. So far I'm not too fussed on it but, I'm hoping to warm up to it soonish. Especially, because I want to finish it before I go to the Lifeline Bookfest tomorrow and conveniently forget about all the books on my tbr.
SUNDAY 24
Today was the Lifeline Bookfest! Naturally I dragged mum and my brother and they got bags of books, while I got a stack of Brendan Fraser dvds, a Halsey album and another copy of Peter Pan. I don't know what happened, maybe I malfunctioned or something??? I think I'll go back later in the week though, because I have been saving up for this for ages, so I might as well check it out on different days.
Anyway, all this to say that I didn't read anything today. I mostly spent the day looking at books so I never ended up actually picking one up and reading it, oh, the irony!
MY WEEK THREE WRAP UP
THOR 2 • Ice Wolves (432 pages) [started]
CAP 2 • DP/Spidey Vol 0 (272 pages)
✖GOTG • #skip 2
AVENGERS 2 • Wires & Nerve Vol 1 (238 pages)
HAVE YOU BEEN PARTICIPATING IN JAMIESON'S MARVEL-A-THON?
WHAT HAVE YOU BEEN READING LATELY?