I think we all know what a bookshelf tour is at this point. If you watch Booktube than you know that Bookshelf tours are a big deal and often expected. I've been wanting to do one myself for so long but I honestly had no idea how to go about it because the idea of doing a bookshelf tour all in one blog post is pretty daunting so I thought I would give it a go but break up my shelves as I go. I also am not fond of talking about every single book on my shelves, so I thought I would recommend some of the books, via each shelf – ignoring the books I'm not fond of. Hence, this post! I decided to go shelf by shelf recommending my favourite books on my shelves and I hope you guys enjoy!
Let me know if you'd like to see more posts in this series and more bookshelf tour recommendations!
Click on the covers to go to the Goodreads pages!
THE RAVEN CYCLE
I don't know that I even need to really recommend this series at this point, but for the purposes of keeping this post honest about what I have on my shelves, I'm going to include it!
This is a really fantastic and character-based series! This series has basically no plot and mostly just focuses on the main characters. Each of the characters is completely unique to each other and there is pretty much a character for every reader to relate to, for me, it's Adam Parrish.
THE LUNAR CHRONICLES
Okay, I need to read this series asap. I included these books in my latest Books I Need to Re-read post! I plan on continuing my re-read of the series soon so hopefully, I'll love it just as much as I did the first time.
I loved these books when I first read them and I really enjoy the fun sci-fi twist on fairytales. It has been a couple of years since I picked these books back up and I still think about them all the time. The characters are all really fun, and unlike The Raven Cycle, this does have a lot more of a plot. I don't know if i'm really selling this series to you guys, but I swear I love these books!
STARBOUND TRILOGY
I love this trilogy and I have no shame! This is a really fun trilogy full lots of cheesy romance and a really cool plot. Each book is a companion novel and they all connect at the end! It also has a really great finale that I really enjoyed when I read it. My favourite book in the series would have to be book one purely because I love the characters SO MUCH but, I love this whole trilogy and hope you guys do too!
SKULDUGGERY PLEASANT
I just found out that there's an 11th book in this series that was recently released and I'm honestly so mad I didn't know about it! I love this series and somehow I am now two books behind and it's kind of stressing me out because I love these books so much and I need to know why the author decided to start writing the books again (the main series stopped a few years ago at book 9). Anyway, this book series is fantastic, there is so much beautiful and sassy banter and I just love it so so much???
CARAVAL TRILOGY
So,  I know I've been recommending mostly finished series in this post so far, but so far we have 2/3 books in the trilogy out and I am currently reading Legendary and loving it, so I am pretty confident that this series will be staying on my favourites shelf for years to come. Stephanie Garber has some seriously fantastic atmospheric writing and a really great mind for plot twists and amazing scenery and I wish more people would pick up Caraval because I love it so much and it deserves all the love!
THE FINAL EMPIRE (MISTBORN TRILOGY)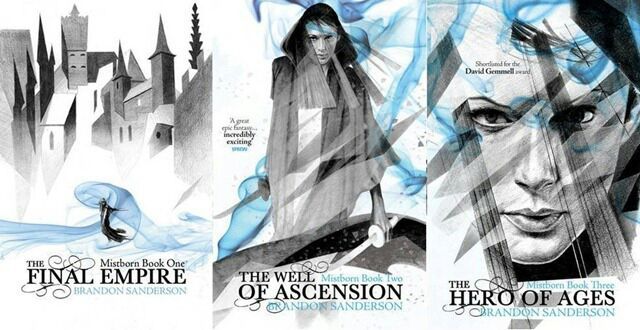 This trilogy is everything to me and I love it so so much. Brandon Sanderson knows how to write an amazing storyline. Don't expect a diverse cast but do expect an amazing plot and brilliant world building. Expect ridiculously long books and really interesting characters! This trilogy is absolutely brilliant and I wish you guys would give it a go!
MAGNUS CHASE TRILOGY
This is one of my favourite trilogies of all time and I love it and wish everyone would read it. If you like his other books then I wish you would consider picking up the Magnus Chase trilogy! You can check out my review of book one to see why I love the books so much, but basically, I just love the characters. You might know this about me, but I am more of a character reader than a lover of plot, so this trilogy is exactly the read for me!
SHOULD I CONTINUE THIS BLOG SERIES?
HAVE YOU EVER ATTEMPTED A BOOKSHELF TOUR?