WHOOP WHOOP YA GIRL'S BACK BEING A "REAL" BOOK BLOGGER AND POSTING SOME REVIEWS (All spoiler free, of course!) I haven't posted a mini reviews post since back in 2016 so I thought since my 'rtc' list on Goodreads is getting larger I should really kick my a** into gear.
My NetGalley tbr hasn't exactly been getting away from me lately (It's May when I'm writing my intro and including the arcs on this list, I only have 14 on my NG tbr). 
*Are you guys okay with swearing? I don't want to make anyone uncomfortable.
Thank you to Hachette Australia for supplying the e-arc via Netgalley in exchange for an honest review.
★★★☆☆
tags: mystery, suspense, adult, debut, may 2018 release
TW: Child abduction, rape
My official rating for this is a 3.5 out of 5 stars.
The Perfect Mother is Aimee Molloy's debut novel and I'd say she did pretty damn well. I don't read mysteries as often as I would love to, and within that, I have also never read a domestic suspense novel. So, I was feeling both apprehensive and excited!
This was a really interesting book! Not only did it have some really interesting commentary about motherhood, what makes a mother and how mothers should act within society's eyes. I really enjoyed that commentary, it was one of my favourite aspects of the book and what made it so enjoyable to read. It was really interesting (I'm so sorry I keep using that word ughhh!) to see how harshly mothers are judged by not only their husbands and the general public, but by other mothers too.
As for the mystery/suspense aspect of the novel, I did also find it quite intriguing. I found that I really enjoyed the idea of a domestic mystery. I thought that it was really cool for the mystery to be centred around a mothers group. It gave the story a different feeling and in a weird way made it feel more normal and more like this could happen to anyone. You really started to understand the characters and feel for them as the story went on and by the end, I was really enjoying myself, despite the subject matter/ type of mystery.
The author, Aimee Molloy has great writing and writes really interesting characters. She also clearly has a great mind for mystery. I can't wait to see what she writes next!
★★☆☆☆
tags: Fantasy, Retelling (The Little Mermaid), Young Adult
TW: Non-Consensual kiss, Mental/ Verbal/ Physical abuse, Abusive parenting
My official rating for this is a 2.5 out of 5 stars.
I feel like I have a lot to say and no idea how to say it. This book had so much potential, and for a lot of people I think it reached that potential, but for me, this story just barely got off the ground. I think I'm in the minority when I say To Kill A Kingdom wasn't good. This book was a clusterfuck of shitty people doing shitty things and I was not big on it.
I wanted so badly to love this book but, it rubbed me the wrong way, I guess you could say it got my goat?? To kill A Kingdom was going to be so good, it was going to be what finally gave me the push to finally watch The Little Mermaid (TKAK is a loose reimagining). I was determined to love it, which is why I finished it, instead of DNFing it which I came so close to doing around the halfway mark.
I will admit, there are aspects of this book I did really like. I love the title, I loved the ending battle chapter and I enjoyed the character, Kai. But, that's around about where my love for the book is cut short. For the first 80% of this book I was going to rate this 2 stars, I was even tempted so many times to just DNF it and be done with it. But, I held on hope that it would get better and it did, a whole 0.5/5 better. No spoilers, but there is a character towards the end of the book with a massive battle and I actually LOVED that part of it, but then that ended and I pretty much went back to not caring.
Technically, I'm a murderer, but I like to think that's one of my better qualities.
This is a mini review so I'll try to keep it well, mini, and just tell you guys the long and short of it. While the author put a really cool and interesting twist on an old story, the characters suck and they are absolutely what ruined this story for me. It took me to around 75/80% of the way through this book for me to actually start appreciating them and by then the story was mostly over, so what was the point?
This book also felt very long. I read half of the book in one day, and the rest the next day and it felt like I had been reading for weeks, I had to make myself start playing the audio again. Also, I know this isn't nearly as bad a case but you know how everyone and their mother complained that nothing was explained in Zenith? (Sasha Alsbberg & Lindsay Cummings). Well, the same thing goes on in this book, though to a lesser degree. Kingdoms, creatures and other names are just thrown around without any explanation and while it didn't take me out of the story to the degree that Zenith did, it was still weird and confusing.
Also, PSA if you listen to the audio on Audible it's going to be a bit shaky. The audio is pretty crap. I think they had to go back and re-record parts of the book (like, a lot of it holy shit) but, maybe they re-recorded with a different mic or something because it was weird and I was not about it.
Thank you to HarperCollins Publishers Australia for supplying the e-arc via Netgalley in exchange for an honest review.
★★★★☆
tags: Adult, Contemporary, Australia
TW: Animal Abuse, Abusive Parenting, Physical Abuse, Abusive Relationships, Death, PTSD, Panic Attacks, Rape
Holy Crap you guys, This book is absolutely brilliant. As you can see by the trigger warnings (tw) this book is pretty heavy. It's based around a girl raised in an abusive home and features many types of abusive relationships from different perspectives. It's a really interesting and heartbreaking read and if you think you can handle it I honestly do recommend it. Though, I do want to stress that, yes there are multiple abusive relationships there is also animal cruelty (all inflicted by male characters) towards dogs in this book. I know, that more that anything that is what almost set me off many times while reading this book, and it didn't help that I read the whole book in one day.
I will say that I don't know if everything in this book is a good depiction of grief or abuse but, I will say that in the way it was written, it felt real. Because of the amazing writing, everything in this book felt real, I felt like I knew the characters in this novel and I really felt like I understood the main character.
This was fantastic, especially for a debut novel. This book tackles so much and handles grief and abuse in a very real way, in that you don't always know it's abuse until it's too late, which is a very honest portrayal of abuse. Holly Ringland has written something truly special with this book.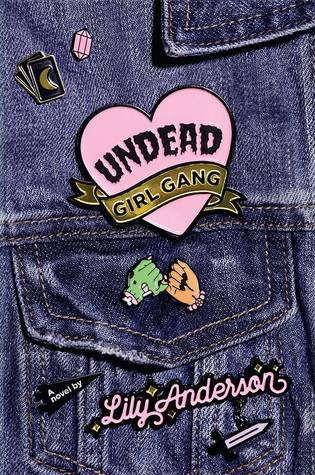 ★★★☆☆
tags: YA, Mystery, Magic
TW: Death, Funerals, Zombies, Magic, Bullying, Murder, Fatphobia, Grief, Guns, Self harm
Here I am… again… probably rating one of your faves low. Sorry guys, I swear I'm not doing this on purpose but Undead Girl Gang was mediocre at best. Originally I gave this a 3 stars but, since then I have changed my rating to a 2.5, purely because the plot was somehow boring to me, I thought the main character was kind of horrible and it just made me feel bad while I was reading it.
A few years ago I'm sure I would've loved this but I just don't think it's for me anymore. I'll be honest, this book was just too much rolled into a really short space of 300 pages. Some authors can write an amazing story that tackles all kinds of subjects while also having a fantastic plot (See: Seanan McGuire). Amber Robertson was trying to prove that popular girls have hearts, fat people have feelings and opinions, there's a line between good and bad, friends can change, people aren't always who you think they are, and Hey! Magic is real! Also, Zombies.
And, speaking of, Robertson used one of my least favourite topes (in any media) – The Populars™ being B*tches. I'm sorry, I'm sure there are some sucky "popular" kids in the world, but not all of them are horrible people. It's an overused and offensive trope and frankly, I'm sick of seeing it.
So, back to the actual plot of the book. This is a mystery, or so they tell me. Three girls end up dead, one of them being the MC's best friend. And, now the MC has to try and figure out who killed them all, so naturally, she raises them from the dead. To me, the mystery was why I kept reading the book. I couldn't dnf because who dnfs in the middle of a mystery? Either way, the mystery was a bust and easy to figure out, the main character was horrible, there were pacing issues and there was self harm not being called out, but instead recommended as a coping mechanism.
I think it's great that so many people loved this book and that it had some good fat rep, that didn't actually shy away from the word "fat". But, this book was just not for me, hopefully, you guys will like it more than I did!
HAVE YOU READ ANY OF THESE BOOKS?
WHAT DO YOU PLAN ON PICKING UP NEXT?