Hey guys, today I'm coming at you with a different and more #real kind of post. I've never gotten quite this serious with you guys but lately, it's occurred to me that I don't really know that much about you guys, and or do you know all that much about me.
This year one of my low-key goals was to write more Life Chats posts so I'm doing that today by talking with you guys about my disability!
What's it like to be deaf? Well, let me tell you my experience so far…
BEING DEAF
First up, being deaf is not as easy as it sounds. Ha, I made a joke. It's funny when I do it, but, not when you do it.
Okay, now that we've got that out of the way – I am deaf. I am hearing-impaired. There is technically a difference and I understand that difference, but I have always (well, not always) referred to myself as deaf so you can fight me. I am completely deaf (absolutely no hearing) in my right ear, but I also do not have 100% hearing in my left, so basically I'm not supposed to listen to loud music, but just try telling that to my 12 yr old depressed self who was obsessed with screamo.
(yes, I still cringe looking back at that time)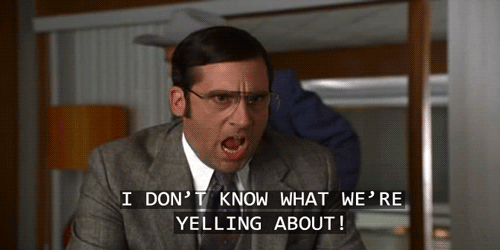 I miss out on so many conversations & never understand song lyrics.
My parents didn't even notice until I was four. They just thought me getting the alphabet and every song ever wrong was cute. Well, I still get sh*t wrong and it's not cute.
Am I ignoring you or did I just never notice you were speaking in the first place?
I am constantly being told to stop ignoring people.
Yo, where's my representation?
I hate music that uses both headphones to play music. Does that make sense? Like, when the drums play through one earphone but the lyrics play through the other. Great, now I can only hear one element of the song. It's not cool or edgy, it's ignorant and rude and makes me cry.
BUT, THERE MUST BE A POSITIVE, RIGHT?
What I love most of all about being deaf is being told I'm not. Like, wow I've gone almost 18 years of my life thinking I couldn't hear properly but now you've come along and fixed me with your able-bodied, privileged and unsolicited opinions. Thanks, but no thanks.
Seriously, I've yet to find a perk to this. Yeah, you think it's funny or cool when you say shit like, "Oh, but you can just ignore people on commend though, right?". First of all, I'm not ignoring anyone, I just literally cannot hear you. And second, I would rather have the ability to ignore people rather than have everyone judge me for thinking I was.
THE FIRST STEP IS ADMITTING YOU HAVE A DISABILITY
Yeah, you heard it (I didn't) right, I legitimately had to admit to myself that I had a disability. For so much of my life it had jsut been a thing that people told me I had. I've been half deaf since birth so it had never been a big thing for me… until it was.
For most of my life (let's say the first 12 years) I was just cruising along probably missing a lot of conversations, but I was cruising and everything was fine. My grades were fantastic, my friends and teachers were totally understanding and life was going great.
And then I started high school, the Big Cahoona. And, suddenly I could tell. Oh shit, I'm deaf. Like, it suddenly became a big deal. All of a sudden I was constantly having to remind my teachers that I couldn't understand what they were saying, I was having to explain to my friends why I couldn't sit at the back of the classroom (something, after 5 years, none of them ever seemed to grasp). Suddenly my only having half the hearing everyone else had was a big deal.
It was an honest to God, hard process, to go from not really needing to think about anything aside from which side of the classroom I was on t having to constantly remind people to please let me stand on the other side if we're having a conversation. It is a harsh and terrible process. Nobody else in my family is deaf – it's sort of that thing that we all knew about but never talked about.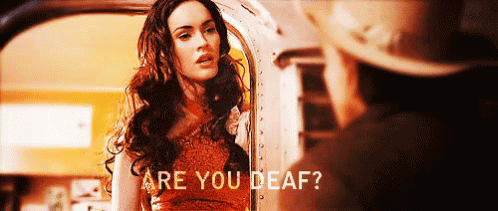 Yeah, yeah I am.
I am deaf and it is not easy.
PET PEEVES
DON'T CALL ME, DON'T FORKING DO IT
I know you probably just forgot, but could you take a minute before you press the call button to remember that I cannot hear for sh*t on the phone.
WHAT WAS THAT? WHAT DID YOU SAY? OH, I'M SORRY, COULD YOU SAY THAT AGAIN?
I get it, you think you're funny. But, you're not. At least, where I am in my life right now, I cannot laugh with you about my disability, I just don't find it funny.
It's not funny to me and as soon as one of us leaves the room I will start crying – my disability might be a joke to you, but it's not to me.
WAIT, YOU'RE DEAF?
Yes, I am. Do you feel shitty now? Well, you shouldn't. I'm pretty good at reading lips at this point. But, if you harp on about how you never realised I will hurt you because I know that you weren't aware, it was pretty obvious.
NOT EVERYONE REMEMBERS
Disclaimer: I'm not sh*tting on anyone but this stuff really annoys me.
High School is a hell hole and teachers can barely remember your name, let alone the fact that you have a disability. On occasion (or if you have hearing aids) you will get a teacher that actually remembers and understands that it's not easy, but generally, you have to remind them every couple of lessons. It's not a fun time.
This is the one that hurts the most: I have two friends. that's it and I'm fine with it. But, my friends never remember that I'm deaf, it rarely occurs to them that I need to stand on their right sides so I can hear. It doesn't occur to them that I can't talk on the phone or that I'm going to need the subtitles. I know that they're not deaf but it still breaks me heart a little everytime they forget one of the little things.
THE BIG ONE: WHY DON'T YOU WEAR HEARING AIDS?
Yes, you heard that right folks, I don't wear hearing aids. Because I don't want to and at the moment I don't feel like I need them. Sorry if that offends you but it's my body and I can do what I want with it.
DO YOU KNOW ANYONE DEAF? HOW FAR THOROUGH MY RANT DID YOU GET? (SORRY THIS ONE WAS A BIT OF A DOWNER)