Hey guys, today I'm coming at you with some new contemporary recommendations. I tried to make each a bit different in tone and story because I know that for me, at least, sometimes contemporaries all feel the same. 
Remember, if it's in red it's a link!
Dante can swim. Ari can't. Dante is articulate and self-assured. Ari has a hard time with words and suffers from self-doubt. Dante gets lost in poetry and art. Ari gets lost in thoughts of his older brother who is in prison. Dante is fair skinned. Ari's features are much darker. It seems that a boy like Dante, with his open and unique perspective on life, would be the last person to break down the walls that Ari has built around himself.
But against all odds, when Ari and Dante meet, they develop a special bond that will teach them the most important truths of their lives, and help define the people they want to be. But there are big hurdles in their way, and only by believing in each other―and the power of their friendship―can Ari and Dante emerge stronger on the other side.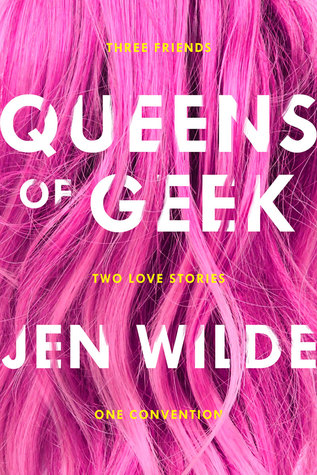 Three friends, two love stories, one convention: this fun, feminist love letter to geek culture is all about fandom, friendship, and finding the courage to be yourself.
Charlie likes to stand out. She's a vlogger and actress promoting her first movie at SupaCon, and this is her chance to show fans she's over her public breakup with co-star Reese Ryan. When internet-famous cool-girl actress Alyssa Huntington arrives as a surprise guest, it seems Charlie's long-time crush on her isn't as one-sided as she thought.
Taylor likes to blend in. Her brain is wired differently, making her fear change. And there's one thing in her life she knows will never change: her friendship with her best guy friend Jamie—no matter how much she may secretly want it to. But when she hears about a fan contest for her favourite fandom, she starts to rethink her rules on playing it safe.
Just out of high school, Emi Price is a talented young set designer already beginning to thrive in the L.A. film scene. But her artistic eye has failed her in one key area: helping her to design a love life that's more than make-believe. Then she finds a mysterious letter at an estate sale, and it sends her chasing down the loose ends of a movie icon's hidden life. And along the way, she finds Ava, and at long last, Emi's own hidden life begins to bloom.
Sixteen-year-old and not-so-openly gay Simon Spier prefers to save his drama for the school musical. But when an email falls into the wrong hands, his secret is at risk of being thrust into the spotlight. Now Simon is actually being blackmailed: if he doesn't play wingman for class clown Martin, his sexual identity will become everyone's business. Worse, the privacy of Blue, the pen name of the boy he's been emailing, will be compromised.
With some messy dynamics emerging in his once tight-knit group of friends, and his email correspondence with Blue growing more flirtatious every day, Simon's junior year has suddenly gotten all kinds of complicated. Now, change-averse Simon has to find a way to step out of his comfort zone before he's pushed out—without alienating his friends, compromising himself, or fumbling a shot at happiness with the most confusing, adorable guy he's never met.
CAN YOU RECOMMEND ANY CONTEMPORARIES? WHAT ARE YOU CURRENTLY READING?