my rating: ★★★★☆
tags: LGBT, m/m romance
goodreads avg rating: 4.29
film censorship rating: MA
big names: Armie Hammer, Timothée Chalamet, Michael Stuhlbarg
FRIDGES FRIDGESAN A
ANT
"Call me by your name and I'll call you by mine," which I'd never done in my life before and which, as soon as I said my own name as though it were his, took me to a realm I never shared with anyone in my life before, or since."
THE BOOK
★★★★☆
I have been debating writing this review for days now. I saw the film on New Years Eve and then went home and read the book two days later, it was y first read of the year and I couldn't be happier about it.
Since I've only seen 2 people on the blogosphere talk about it I figured why not talk about it?
Call Me By Your Name is a short, emotional and staggering read. It will have you swooning, crying and laughing (through your tears). It's about two people falling in love, it's about a peach and it's about exploring who we are.
"If I could have him like this in my dreams every night of my life, I'd stake my entire life on dreams and be done with the rest."
The main thing people talk about when mentioning this book (apart from the peach scene) is the fantastic writing. And, I have to agree, André Aciman knows what he's doing. The writing style is to die for, there is not a great amount of dialogue, but if I'm honest I quite prefered that to the onslaught we usually receive within YA, which is what I usually read.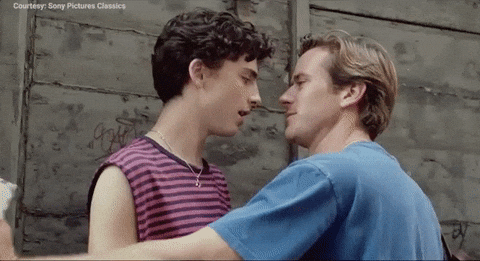 "We had the stars, you and I. And this is given once only."
I'm sad to admit that I listened to this one on audiobook, well, I'm sad because I didn't get to experience it slowly and by myself. However, I am also SOSOSO glad that I caved and got the audiobook because Armie Hammer narrates it and I'm shook you guys he's a pro.
While this book didn't have a Stalking Jack The Ripper level impression on me, the writing and the characters still had me thinking about this book days after I'd finished it (a feat, let me assure you). I wasn't overwhelmed by this, though that might be because I read the book in one day, and very much like Oliver, I was just passing through. Whereas, if I had taken more time and really stretched it out, I'm sure I would have grown to care more for the plot and characters.
THE FILM
★★★☆☆
Yep, so as you can see by my incredibly accurate gif, this book gave me feelings. I don't remember the last time I really appreciated the ending of a book because usually, that's the worst part. But this was perfect, it wasn't rushed, it wasn't unrealistic. Everything fell into place and it was perfect.
BUT holy god dam I swore I wouldn't cry and you know what? That didn't work out, I was bawling and this was the perfect ending and I am so happy they stuck with it for the film.
This was a rollercoaster of a film and I hope you all buy ticket.
(ALSO, I never mentioned this, but both of the main characters, Elio & Oliver are bisexual.)
"Is it better to speak or die?"
And, so, now we get to the real kicker. The thing that drives most people to watch the film, and remains the most controversial topic surrounding the film: the romance between Elio and Oliver.
Yup controversy galore. Oliver is 24 and Elio is 17. So, is the problem the age gap or the fact that Elio os a minor because the age of consent in Italy is 14, and was 14 in 1983, the year the book is set.However, if the age gap is the issue I can think of a lot of films where the gap was the same, if not bigger but people were fine with it because they were hetero.
Pretty Woman, Twilight, Clueless, Dirty Dancing, Romeo & Juliet, Gangster Squad, Beauty & The Beast, Lolita, The Reader, Notes On A Scandal, The Boy Next Door
BUT ON A MORE POSITIVE NOTE:
There is a particular scene towards the very end of the film where Michael Stuhlbarg, who plays Elio's father has a whole monologue about taking the time to understand who you are and how it's okay to grieve and feel pain. And, I live for this speech, it was fantastically given and I can't imagine anyone else saying it to Elio, nor can I imagine anyone else playing Elio's father. Perfect casting. Fantastic monologue.
"How you live your life is your business. But remember, our hearts and our bodies are given to us only once. Most of us can't help but live as though we've got two lives to live, one is the mockup, the other the finished version, and then there are all those versions in between. But there's only one, and before you know it, your heart is worn out, and, as for your body, there comes a point when no one looks at it, much less wants to come near it. Right now there's sorrow. I don't envy the pain. But I envy you the pain."
Welp I've heard through the grapevine (Google) that Luca Guadagnino is already planning a sequel for around 2020 and I don't know how I feel about it. I liked how the book and film ended so I doubt I'll watch a sequel if one is made. I feel like a sequel would ruin the story in some way?? Though, 2020 is a while away so who knows what will happen!
HAVE YOU SEEN OR READ CALL ME BY YOUR NAME? DO YOU LIKE THE FILM ADAPTATION?