Hey guys, before I get into this review, I just want to apologise for not getting to your comments as fast as I usually do. I am really sick at the moment, I  feel like my eyes are about to fall out of my head and I haven't really gotten out of bed all day. I will try to get back to you as soon as possible, but at the moment all I seem to be able to do is watch Descendants on repeat ( I am still surprised by how much I enjoy this movie).
Anywayyy, onto the review!
my rating: ★★★★★
tags: Diverse, Disability, POC Side character, YA, Mythology
goodreads rating: 4.26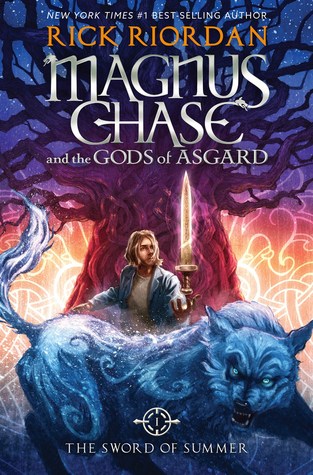 Magnus Chase has always been a troubled kid. Since his mother's mysterious death, he's lived alone on the streets of Boston, surviving by his wits, keeping one step ahead of the police and the truant officers.
One day, he's tracked down by a man he's never met—a man his mother claimed was dangerous. The man tells him an impossible secret: Magnus is the son of a Norse god.
The Viking myths are true. The gods of Asgard are preparing for war. Trolls, giants and worse monsters are stirring for doomsday. To prevent Ragnarok, Magnus must search the Nine Worlds for a weapon that has been lost for thousands of years.
When an attack by fire giants forces him to choose between his own safety and the lives of hundreds of innocents, Magnus makes a fatal decision.
Sometimes, the only way to start a new life is to die . . .
HOW TO START
If I'm honest I went into this with no expectations. I knew nothing about the book, other than that it was based around Norse mythology.
You don't have to, but I would recommend reading Rick Riordan's previous books before starting this one. You do meet other characters from his other series throughout the trilogy so it might be helpful to know who they are, I definitely got a kick out of it. That being said, it's not all that important and you can just start here.
THE CHARACTERS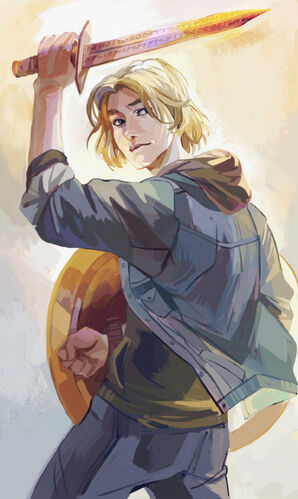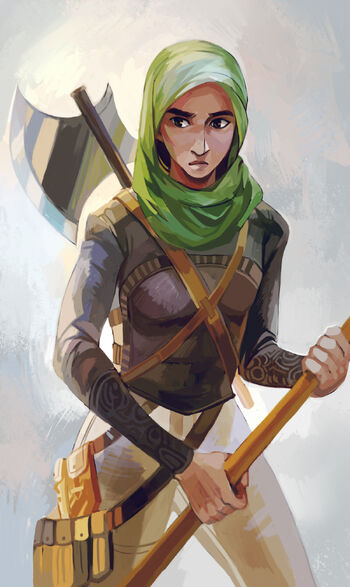 MAGNUS CHASE
I wasn't so sure about this guy at the beginning, I felt like Rick was trying too hard to convince us that he wasn't Percy (he doesn't like water, and his least favourite colour is blue???). However, after a while, I started to get used to him and found that I really liked him.
SAMIRAH AL-ABBAS
I love her?
You know what I really loved about Samirah's character? I love how her being Muslim wasn't a big deal. Yeah, she wear's a hijab but does anyone care? Nope. She is also part of an arranged marriage, and what I loved about this is that, I feel like most of the time these days, arranged marriages are shunned so for this not to be a big deal, and for Sam to defend herself properly was amazing.
Samirah is also a really strong and independent character, she takes nobody's shit and she knows how to wield an axe, I honestly can't wait to see more of her in the rest of the trilogy.
HEARTHSTONE & BLITZEN
Ahh, yes, my new favourite duo. These two are amazing and I love them very much.
Hearthstone is brilliant and I love him, he is right up there with Adam Parrish – that is how much I love him. Could it also have to with the fact that he's deaf? Yeah, it totally does!**
I also really appreciated Blitzen, he is a fantastic character. I don't want to spoil anything about his character, but he is definitely not what you would expect, and I really appreciated it.
**By the way, I am not romanticising disability. I am deaf, so I really appreciated the representation.
The only thing that I'm unsure about with this book, was purely that it felt like all of his other books. It follows the same formula as the others so I felt like I always knew what was going to happen. That being said, I still loved the book, and I can't wait to read the next one.
Clap clap for diversity, I really loved that the characters didn't feel forced. If you couldn't tell, I really loved Hearth, and he was definitely my favourite character. What I really enjoyed, especially about Hearth was that all the characters made an effort to learn ASL (American Sign Language) so they could communicate with Hearth, and it honestly made me tear up. I mean my friends can barely remember that I'm deaf, and here we have this whole group learning ASL for their friend.
I really appreciated the break from Greek mythology, Norse is just so different. After reading 3 series surrounding Greek myths, it was such a cool bre to read about Thor and Helheim. I can't wait to learn more about the world, and I am nervous to say that I might enjoy Norse more than Greek. I'll have to finish the trilogy, but I seriously love this new world.
I feel like Riordan didn't just add the diversity to earn points with his readers. Diversity is the hot new thing at the moment, and it honestly never felt forced. I really enjoyed how the characters religious beliefs and disabilities were talked about (in a positive light) and they were never treated differently because of them. They were always a valid part of the team, and Rick even showed that disability can also be a plus.
Yes, definitely! I already have book 2 so I am excited to read it soon. I am really hoping to finish the trilogy by the end of the year, it is just soo good!
Have you read The Sword of Summer? Who was your favourite character?