Hey guys today I'm coming at you with a YA comic recommendations post. Depending on how new you are to my blog you probably know that I love comics. Though, for some reason I don't actually talk about comics as much as I would like to.
I know that a bunch of you don't read comics, or just don't know where to start, so I'm hoping I can help you out with that!
By the way, if the words are blue, they're links to the Goodreads pages. 
Non-Superhero Comics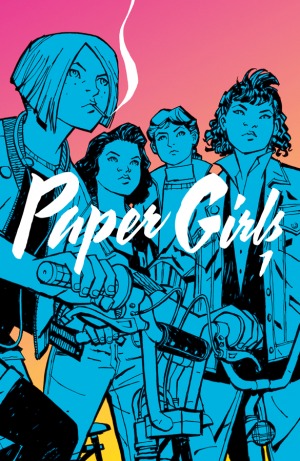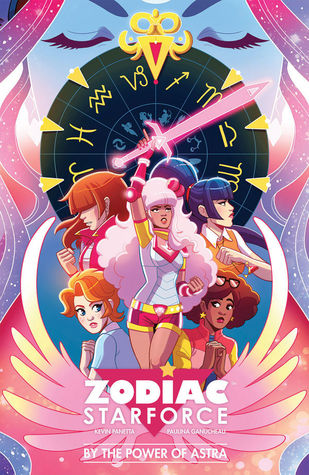 Paper Girls – I know I'm starting out a recommendations post with a comic I didn't actually enjoy but hear me out. I know I really didn't like this at all but I know this series is still really popular, it was created by one of the dudes that makes Saga.
Anyway, so I know that I wasn't a massive fan of this but I know that a whole bunch of people do love this, and the premise, while vaguely confusing, is really interesting. It's a weird sci-fi comic based in the late 1980s surrounded by a group of girls who deliver newspapers around their suburbs…until something goes wrong.
Lumberjanes – I'm currently a volume behind in this series because my library hasn't got the new volume in (even though the latest volume came out in April), and I am fuming. This is a comic series for all ages, I read it with both of my younger brothers and we always look forward to getting the series out from the library.
This is a fantastic series about a group of girls at a summer scouts camp. It's got amazing artwork with bright colours, friendship and it's LGBT, I reallllllly recommend that you guys pick it up.
Zodiac Starforce – Much like Lumberjanes, Zodiac Starforce, is a really fun and bright comic centered around friendship (also lgbt characters), but also badass female superheroes (who really remind me of Power Rangers, but like, efficient ones). The girls in this comic are really fun and I know this is a recommendations post, and I keep saying this but…  you should definitely read this (okay I'll stop now).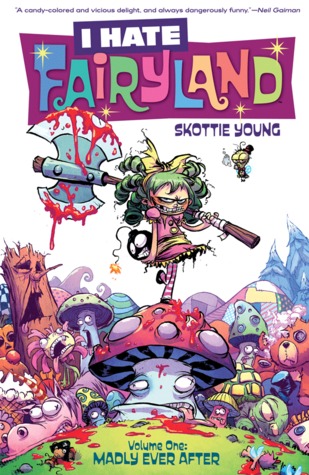 I Hate Fairyland – PLEASE READ THIS. I love this comic, so you guys need to get on this. If you like the character Deadpool then you will love this. The main character, Gertrud (yes, that is actually her name) has basically been trapped in this really bright, fantastical world and is trying to get out. It's ridiculously violent, and really funny, also it's written and drawn by my favourite comic guy: Skottie Young.
Alex + Ada – I read this the same day I read I Hate Fairyland, and what a great day it was. Along with I Hate Fairyland, I had been meaning to pick up this for years (they've been on my Goodreads tbr pretty much since I joined the site) so to read both of these in one day felt SOO GOOD.
Alex + Ada pretty much talks about whether or not robots and/or cyborgs should be allowed to have emotions, which is a topic I find really interesting so reading this was amazing, for me at least.
Bitch Planet – I loved this one so much that I actually reviewed it, and I think that speaks volumes about how much I enjoyed it. I really love this comic, and I also really appreciate how the comic has gotten readers who never touch comics to give the format a go! Also, this is a feminist comic and it gave me life!
Superhero Comics
Young Avengers – I know guys, I recommend this comic trilogy constantly, but I promise you it's worth it. This is a really fun trilogy with fantastic characters, and honestly if you really try you could probably read the entire trilogy in a few hours. I have read each volume multiple times and I have loved it each time. Also, this has an m/m couple who love each other and fight crime while surrounded by their awesome friends (and Loki).
Rocket Raccoon & Groot – THIS. THIS COMIC. YOU GUYS. I. AM. DYING.
Okay, so I don't know if you noticed but I love this comic series. This is basically a buddy cop series, it's just Rocket and Groot going around the Galaxy and getting into a load of trouble and I love it.
Amazing Spider-Man (World Wide) – I started this series early this year, and I really enjoy it. I don't think it's the best place to start out if you know nothing about the Spider-Verse, or Spider-Man in general, but if you do, then this is the comic for you.
Silver Surfer – This, along with Nova (below) is one of my favourite comic series and I absolutely love it. It's a great spot to start at if you know nothing about the comic-verse, or even know nothing about Silver Surfer. This is pretty much his origin story, also the power cosmic is where it's at, and Dawn (the chick with the ladybug dress) is an amazing character!
Nova – Okay guys, I read this entire series last year and it is one of my favourites. I love it with all of my heart, and like Silver Surfer it is also a great place to start if you know nothing about the character or are new to comics. Basically, this kid is teen Spider-Man in space, and it's kind of brilliant?
The Flash – I feel like all those Marvel recommendations I really should recommend you guys some DC (granted, I really do read a lot more Marvel). This comic series is based around The Flash (duh, Ellyn) and I really enjoy it. I actually don't watch the show anymore, but I feel like everything I don't like about the show is turned around in this series and so I enjoy this a lot more. That being said, my brother is obsessed with the show and absolutely LOVES this series and is constantly re-reading it.
I would also recommend The Flash Rebirth if you want to explore Wally West a bit more, or even if you just want to learn about the character.
Do you read comics?
Do you have any comic recommendations?