my rating: ★★★☆☆ (3.5)
tags: contemporary, romance, lgbt
goodreads rating: 4.37
I received an arc copy of this book from the publisher via Netgalley in exchange for an honest review.
When Mateo receives the dreaded call from Death-Cast, informing him that today will be his last, he doesn't know where to begin. Quiet and shy, Mateo is devastated at the thought of leaving behind his hospitalised father, and his best friend and her baby girl. But he knows that he has to make the most of this day, it's his last chance to get out there and make an impression. 
Rufus is busy beating up his ex-girlfriend's new boyfriend when he gets the call. Having lost his entire family, Rufus is no stranger to Death-Cast. Not that it makes it any easier. With bridges to mend, the police searching for him and the angry new boyfriend on his tail, it's time to run. 
Isolated and scared, the boys reach out to each other, and what follows is a day of living life to the full. Though neither of them had expected that this would involve falling in love… 
This was my first Adam Silvera novel so to say I went in with high hopes is an understatement. I'd heard nothing but good things about his previous novels and so I was elated when I got approved for an e-arc of his latest novel, and this was probably the novel I was most excited to read so it was a very happy day for me.
That being said, if you looked at my rating then you know that it hasn't received the rating I assumed I would give, though a 3 star rating, in my book still constitutes a good book. A 3 star for me, means the book was still good but it was pretty average, for example, I rate the Mistborn novels 5 stars because I fall in love with the world more and more the more I read them. Whereas, I rate the Lux novels 3 stars so far, because while I get through them quickly and quite enjoy them, I find them quite average and don't think they're anything special.
I know I'm going on about this a lot but I do want to emphasise that I gave this a 3.75 overall, because while some parts were slow, I did really enjoy the novel overall and will definitely be picking up Silvera's other novels later on.
Anywayyyyy… let's get into the review!
Slow for the most part but I understand why – the book is set over a period of 24 hours so it kind of makes sense – you can't race through lots of scenes and have a lot of action of high-pressure scenes when you've only got 24 hours to work with and have to keep the characters alive until the last chapter or two.
The last 20% of the book was phenomenal – it really captured the essence of the characters and showed how the characters had developed throughout the day, it pointed out their flaws and showed them at the very high point in their life. It made me love Adam Silvera and hate him at the same time, for making me fall in love with these characters, only for me to actually remember every few pages that the characters were going to die.
This was such an awesome concept for a book and I'm so glad that Silvera wrote it because he did it flawlessly. This book made me think, it made smile and it made me cry. I will definitely be shoving it under all my friends' noses when it hits the stores.
I definitely recommend this book if you want something short that will hit you like a tonne of bricks, or as Miley Cyrus would say: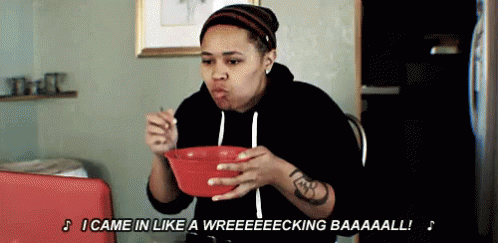 If you're totally on board for all that, then this is the book for you.
It's been a while since a book has really pulled at my heart strings. I didn't cry because it seriously takes a hell of a lot to get the waterworks going but damn, I was exhausted by the end of this one. The first two-thirds of this was pretty slow but by the last 20% is was reeling, I experienced probably every feeling on the emotions scale. I was going through the works, there was anger, happiness, sadness, everything under the sun. But, I definitely wouldn't change anything about this book, it was a great read and it really got me thinking about how our actions can completely change our lives.
Another thing I really loved about this book is how it doesn't shy away from the fact that the characters all have family and family plays a big role in the actions we take. One of the main characters, Mateo his best friend is a teen mum and he never shames her or talks down to her, he respects her and babysits whenever she needs a break. He loves their little family and completely respects Lidia (the mum) as a normal person. Also, it talks about how like with Lidia and Mateo (who aren't actually together, they're just awesome friends), family isn't always blood. The other main, Rufus, has a completely different style of family, The Plutos and they're completely amazing and I love them.
It's actually just occurred to me that I haven't actually talked a lot about the world yet, and it's one of the best aspects of the novel, something to really pay attention to and think about when you pick this one up.
I am going to talk a bit more about some stuff that actually happened in the book, but I won't go into depth, so this bit is still spoiler free, don't worry!
At one point in the novel, a character actually says, "teen deckers these days", which I found really interesting because people obviously still feel really bad when they find out someone is about to die but this has also been completely normalised. I mean, you have people complaining about kids being a bit dramatic or wanting peace and quiet when the kids are literally about to die in less than 24 hours, how harsh is that?
There's also a Make A Wish sort of place called Make a moment in this book, and it was really interesting to see how bored all the employees are, at one point Mateo and Rufus are walking past someone in the foundation and the employee in charge of that station was completely absorbed in their phone.
The last thing about the world of TBDATE that I want to touch on, that I guess directly relates to what I was talking about before, is that all of this is totally normalised in their society. Someone calls you up at midnight, with a completely emotionless voice and tells you that you have 2 hours or less to live. The people calling you are just trying t get their shift over and done with so they rush through it and often call way after midnight, and so by default you have even less time.
I guess what I found most interesting about the world is that unless you're actually a Decker, death really isn't a big deal. Unless you got the call you know you're going to be fine and so people don't really worry about it at all, they can do what they like because nothing really affects them. The world is really complex and even if you don't care for the story I think the world really makes up for any dislikes.
I wasn't blown away but I definitely enjoyed it enough to recommend it enough to friends.
SO SAD
Be prepared to think about this book for days after you finish it.
Awesome world, props to Silvera
This is a standalone so I can't also THEY'RE DEAD AND I AM HAVING FEELINGS
But, yes, I will definitely be picking up more of Adam Silvera's novels.
Have you read any of Adam Silvera's novels?
Will you be picking up They Both Die At The End?