July 5th: Books Without Romance
– A few (very, very few) people complained about the "shipping" topics lately, so I thought it would be good to talk about books that don't have a romantic subplot! This is a really hard one, so if you can't find any, you can talk about some where the romance is super super minor. Like barely mentioned… at all…
gsda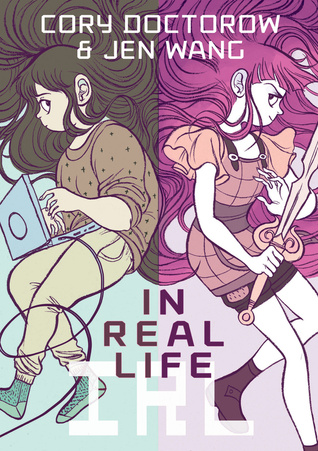 Vernonica Mars // In Real Life // The Giver // The Golden Door // The Ocean At The End of The Lane
We all love our romance novels but sometimes I really just feel the need to read a book without couples or love triangles.
VERONICA MARS
I read The Thousand Dollar Tan Line back in May ( I think???) and I LOVED IT! There isn't really a romance in the books as the main character's boyfriend is away because he's a marine. Veronica Mars is back and she's ready to solve crime and take names!
I would recommend that you watch the show and then the movie before you read the books though, because major spoilers!
IN REAL LIFE
Next up we have a graphic novel! This story is more so about the main character making friend and trying to help other people in their personal lives. There is absolutely no romance in this novel, it's purely about friendship. I loved this when I read it and I definitely recommend you give it a shot!
THE GIVER
The Giver is one of my favourite novels of all time. From what I can remember there is no romance, I know in the movie they totally made the romance a big thing but in the book he had a bit of a crush and that was it. This is a really great novel and you guys should definitely pick it up!
THE GOLDEN DOOR
This is actually my favourite trilogy of all time, it's a really fun fantasy trilogy, there is a romance but it's not with the main character and it doesn't affect the plot or anything like that. The Door trilogy is a really unique trilogy and please read it guys!
THE OCEAN AT THE END OF THE LANE
I read this novel a couple of years ago and while it's not the best book I've ever read I did really enjoy that there wasn't a romance and that it was more centered on the main character's journey and really went down memory lane, with him exploring his childhood.
Did you do a T5W? Do you have any non-romance recs?