April 19th: Favourite LGBTQ+ Reads
–Talk about your favorite books that feature LGBTQ+ characters or are by LGBTQ+ authors.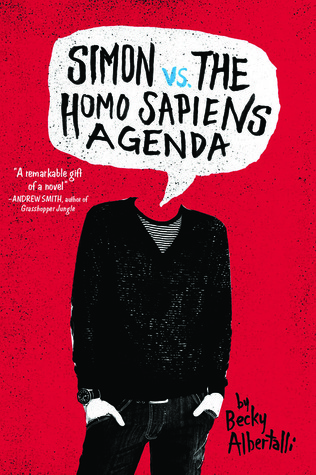 Click on the title on the book to go to the Goodreads page!
Simon Vs The Homo Sapien's Agenda by Becky Albertalli 
I read this early last year and loved it so much that as soon as I finished it I started it right over again. It's a really fun and innocent story about some cool kids who just want to have a nice life and eat oreos.
George is an amazing book, I feel like it's a necessary read. It's short and it gives non-transgender peoples an idea of the struggles transgender people go through, even when they're young.
George really puts in perspective how hard it can be when you feel you're in the wrong body, and it also shows how not everyone will stand by your side if you come out. Alex Gino also doesn't use him/her pronouns, which I think is really smart as this book is middle grade and would be easier for younger readers to understand.
Lumberjanes by Noelle Stevenson, Grace Ellis, Shannon Watters, Brooke A. Allen
Have you picked up the Lumberjanes series yet? No? Well you should. There are no bad things about this series, the characters are all amazing, they have their flaws but as the series goes on they all learn more about themselves and become better people. This is a really cute book about friendship and love (and monsters) and totally recommend that you pick it up.
Everything Leads to You by Nina Lacour
Something I've found with the majority of queer young adult that I've read is that, if a character is gay they're usually a guy. Why? I have no idea.
So naturally when I picked up Everything Leads to You, it was a lovely change to see a lesbian main character, and not just that but a queer main who wasn't coming out or discovering their sexuality. Emi knows who she is and who she likes, she's got her shit sorted out and she knows what she wants to do with her life. Actually, that's art of what makes this book so interesting, Emi works behind the scenes in Hollywood creating the sets.
Every Heart A Doorway by Seanan McGuire
The main thing I want to talk about with this book is that Seanan McGuire managed to put so much representation into a 173 page book, whereas, soo many other books have absolutely no rep. This book has an Asexual main character and a Transgender main character, so whoop whoop for the representation.
There's actually a quote in this book that I really love: "We notice the silence of men. We depend upon the silence of women."