Beauty and The Beast // 2017 Live-Action
Rating: ★★★★★
Time: 129 minutes
Rotten Tomatoes: 71%
Censorship Rating: PG
Cast: Emma Watson – Belle, Dan Stevens – Beast, Luke Evans – Gaston, Josh Gad – LeFou, Kevin Kline – Maurice,  Haydn Gwynne – Clothilde, Ewan McGregor – Lumière, Ian McKellen – Cogsworth, Emma Thompson – Mrs. Potts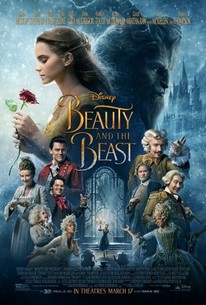 I don't usually post so many things in one week but I saw the film on Sunday and I really wanted to get my review out as soon as possible.
Also this review does contain spoilers so don't kill me if you read something you shouldn't have.
HOW DOES IT COMPARE TO THE 1991 FILM?
Growing up Beauty and The Beast was my favourite film, so of course when I heard that they were making a live-action I died. A live-action of my favourite movie of all time? No thanks Disney. And then, then I heard who had been cast as Belle, and let me tell you I was suddenly so ready for this movie, there may have been squealing.
Okay so as a comparison I would give it a 70% pass rate, however, as a movie by itself it is more like a 90 or 95.
Obviously if I were to compare the two films, this version would not be a great copy. In this version of the film Belle is more the inventor than her father and there are other little differences, like the amount of books available in the village and Le Fou's sexuality.
Also, while I'm on the topic – Why the F is everyone making such a fuss about this? Didn't we all secretly know? I mean come on, a man doesn't trail after another man and then sing him compliments for 3 minutes straight without at least having a crush on the other! I really don't understand this, we are in 2017 and if you don't like it then don't watch it.
In the film, Le Fou dances with a man for maybe 2 seconds of screen time and that's it. Done, wow China are you so glad you made the movie PG 16?
THOUGHTS
I have so many thoughts but as always I didn't write any of them down and I already talked about it with my mum and therefore, have forgotten half of my opinions on the film. I guess this really shows why my reviews are usually so bad.
This was actually a rather funny movie, I felt like The Beast and Belle had a lot more chemistry this time round so when they had their little jokes together it felt a lot smoother. The interaction between the other characters is also what made the movie so good – the friendship between Lumière and Cogsworth was hilarious and the other little quirks throughout the film with Gaston and Le Fou made the movie so much more enjoyable.
Things I liked:
the characters
the music
the diverse cast – we had at least two main interracial couples
Belle really stood up for herself – thank you Emma Watson!
EVERMORE
We got more backstory!
Things I Disliked:
Emma sounded a bit autotuned at the start when she sang, that may have just been an effect of the speakers in the cinema, I don't know.
Some things didn't make complete sense but oh well.
MAJOR CHANGES
There were some pretty big changes made for the film, most of which I was cool with.
One big change made for the film wasn't really a change so much as it was a completely new addition to the storyline. We find out at the start of the film that all the villagers have forgotten who Prince Adam is and that his castle has been secluded away from the village and is basically stuck in a permanent winter hell-land, adorned with demon sculptures and an eerie setting.
There was Le Fou's sexuality which I was so on board with you don't even know.
There were also some new songs but I loved them so you want here any negativity from me!
Belle is now the inventor! I cannot explain how happy this makes me, instead of doing the washing Belle makes a washing machine, using a donkey, a barrel and some rope, she's a genius!
She tried to escape the castle instead of just staying put in her room. She fashions an escape rope out of sheets and ribbon and almost uses it but of course Mrs Potts convinces her to stay.
The other big change was Gaston. Crazy, right? Wrong, Gaston isn't completely different but somehow the guy managed to become more of an ass. He's obsessed with himself (nothing different there?) and he is willing to kill someone in order to prove that he's the most manly of them all. But I must say the guy can sing!
THE MUSIC
My favourite song was definitely Evermore, sung by The Beast (Dan Stevens), I've actually been listening to it on repeat as I write my review. My love for the song has actually really surprised me as I expected to hate the new songs made for the film.
I have to say that the music was probably my favourite thing about the film. They didn't use the entirety of every old song but they used little parts here and there throughout the movie and they really made it work.
WILL I SEE THE MOVIE AGAIN?
Definitely, in fact I expect I'll be seeing it again sometime this week. I'm currently on holidays so I've got the time.
I think this is definitely a movie I'll be re-watching constantly when it comes out on DVD.
UPDATE 14/04/2017: I actually saw the movie again last night and I loved it so it's definitely rewatchable.
SCHEDULED 09/04/2017
SOCIAL MEDIAS
Goodreads — Books Amino — Instagram — Twitter