What's On My TBR? #2
I'v e decided to make this into a segment because I enjoyed writing the first blog post so much!
What Am I Currently Reading?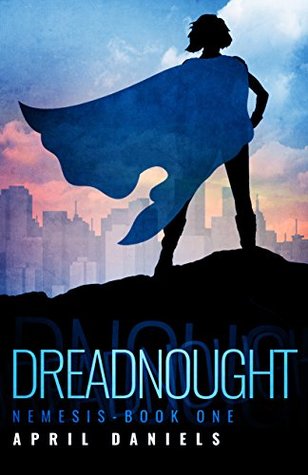 I am currently reading Dreadnought by April Daniels. I'm really enjoying this book but some aspects of this are really hitting home for me so it's taking me a bit longer to get through.
TBR | What Am I Excited About?
These are the books I'm anticipating or have just heard about and really want to read!
Sovereign (Nemesis #2) by April Daniels
At the time that I'm writing this I'm still reading book one but so far I am really enjoying it so of course I am excitd to read book 2!
Spider-Man/Deadpool, Volume 2 by  Scott Aukerman & Gerry Duggan…etc.
Oh my lord, I am in love with this series. I know I've only read volume 1 but holy cow I know this is defiitely going to be a favourite comic series for me.
Spider-Man: Miles Morales, Volume 2 by Brian Michael Bendis
I read volume 1 in March and while I didn't love it I did really enjoy the character of Miles Morales so I'm still pretty excited for volume 2.
Sofia Khan Is Not Obliged (Sofia Khan #1) by Ayisha Malik
Guys, the blurb says everything. It sounds really good and I've heard nothing bt praise so I can't wait to pick it up.
'Brilliant idea! Excellent! Muslim dating? Well, I had no idea you were allowed to date.' Then he leaned towards me and looked at me sympathetically. 'Are your parents quite disappointed?'
Unlucky in love once again after her possible-marriage-partner-to-be proves a little too close to his parents, Sofia Khan is ready to renounce men for good. Or at least she was, until her boss persuades her to write a tell-all expose about the Muslim dating scene.
As her woes become her work, Sofia must lean on the support of her brilliant friends, baffled colleagues and baffling parents as she goes in search of stories for her book. In amongst the marriage-crazy relatives, racist tube passengers and decidedly odd online daters, could there be a a lingering possibility that she might just be falling in love . . . ?
27 Hours (The Nightside Saga #1) by Tristina Wright
This is my most anticipated book of 2017, so to say I'm excited is an understatement. Queers in space, it doesn't get better than this.
You're Welcome, Universe by Whitney Gardner
There aren't enough deaf characters in books so this is definitely in my top 5 most anticipated for 2017.
TBR | What's New?
These are some of the new releases that I am really looking forward to reading!
Wires and Nerve, Volume 1 (Wires and Nerve #1) by Marissa Meyer (text), Douglas Holgate (Illustrations)
I have read The Lunar Chronicles but when my library finally gets this in I'll definitely be picking it up.
Beauty and the Beast: Lost in a Book by Jennifer Donnelly
This sounds amazing, I mean it's part of the Beauty and the Beast world so of course I'm excited about it.
Radio Silence by Alice Oseman
What if everything you set yourself up to be was wrong?
This sounds different so I am very excited about it, plus I haven't read enough queer books in my life.
The Hate U Give by Angie Thomas
This is such an important book that if I don't read it I willl incredbly disappointed in myself.
A Quiet Kind of Thunder by Sara Barnard
Steffi doesn't talk, but she has so much to say.
Rhys can't hear, but he can listen.
Their love isn't a lightning strike, it's the rumbling roll of thunder.
What's that? Another YA book with  a deaf character? Hell yeah it's on my TBR
TBR | Get Hyped!
These books either aren't out yet or have just come out.
One of Us Is Lying by Karen M. McManus
The Breakfast Club meets Pretty Little Liars, One of Us Is Lying is the story of what happens when five strangers walk into detention and only four walk out alive. Everyone is a suspect, and everyone has something to hide.
I literally do not even need to write why I want to read this, you already know.
Waking Gods (Themis Files #2) by Sylvain Neuvel
I read book 1 in March so I'm super excited for this. A sci-fi book about a mysterious robot dug under ground all around the world, oh yeah this series is cool.
At the Edge of the Universe by Shaun David Hutchinson
I haven't yet read a book by SDH but I have heard so many good things about his work that yeah, I am extremely excited to read this!
SCHEDULED ON: 26/03/2017
---
SOCIAL MEDIAS
Goodreads — Books Amino — Instagram — Twitter