October: Monstermash

I was working in the lab, late one night
When my eyes beheld an eerie sight
For my monster from his slab, began to rise
And suddenly to my surprise
He did the mash, he did the monster mash
The monster mash, it was a graveyard smash
01 Skulduggery Pleasant
I've not finished the series yet (there are 9 books guys it might take a while!) but I LOVE IT! It's a great series if you like demons and mosters anda re trying to get into longer chapter books.

02 The Coldest Girl in Coldtown
If you don't want to read Twilight but you want to read an interesting book about vampires then this is certainly a good book to try out.

03 Evil Librarian
This is a very quick and easy read. If you're trying t ease youself into books with demons this might be the book for you.
Basically it's set in high school and the main charcter turns up to school one day to find out that there's a new librarian. Only problem, he's hot. Oh, and he's a demon.
04 Harry Potter
Duh.
This is a great magic based series full of witches and wizards. I've loved this series ever since I was in primary school and my love has certanily not faded.
05 Artemis Fowl
Not only does this series have an incrediby intelligent and sarcastic main character but it also has heaps of fantastical creatures – fairies, trolls… etc.
06 Anna Dressed in Blood
If you like Supernatural you'll like this. Cas Lowood is a ghost hunter in his spare time (when he's not in school) and not only is he good at his job but he's actually the best at it.
I read this duology 2 years ago and loved it. Definitely recommend!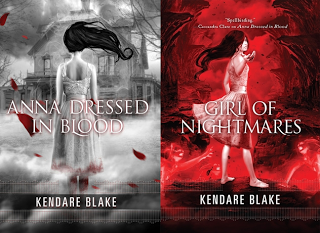 Haven't Read:
01 Miss Peregrine's Home for Perculiar Children
This series has characters with all kinds of abilities and I can't wait to read it to find out more! I've heard pretty much all good things.
02 Dracula
Somehow I haven't  read this yet which is crazy to me. This book is so reknown in the world of classics so I'm hoping to read it sometime in the near future.
 This edition (link)