01 An unpopular OTP that you ship
I honestly don't know if there is an unpopular otp that I ship.
 02 An OTP that you didn't ship at first but do now  
I didn't ship Scarlet and Wolf at first and to be honest I'm not sure if I do now. The first time I read the books I loved them but I reread the first 3 books in preperation of Winter last year and hated the entire book. I just couldn't get inboard with their instalove.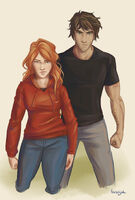 03 Most hated OTP
The otp that I ship that is most hated? I don't have one.
An otp that I have that I hate? I don't hate them together but I very reluctantly ship Romione. Ron has his moments but most of the time he is kind of useless so for him to be with Hermione, of all people is ridiculous to me!
I hoestly I don't see them working as a realistic couple. Sure, they may love eachother but Ron is whiny and I mean come on guys he left them and went home in the last book.
 04 OTP that took too long to get together
*yells* Cress and Throne. These two took SOO long to get together. They are such a good team and they care about eachother soo much that them taking so lang to get together killed me.
05 Favourite non canon OTP
Deamus (Harry Potter)- Apparently these two are actually canon but I don't consider them canon in the Potterverse because it was never explicitly said (plus didn't JK confirm a bunch of stuff YEARS after she published the last book? #sketchy). I love these two and let's be real apart from when  Dean was dating Ginny he is never apart from Seamus – seriously, whenever one of them is mentioned they are always with the other boy!
 06 Favourite BROTP
Ronan and Gansey (The Raven Cycle). The level of bro between these two is amazing, this series has brilliant friendships (also that scene from TRK, you know what I mean).
07 OTP you adored in the book but not in the movie 
Hinny (Harry Potter)- I barely shipped these two in the movies but I loved them in the books. In the movies I catually kind of shipped Harry with Luna instead of Ginny, this may have had something to do with the fact that I really didn't like Ginny in the movies.
08 Popular OTP you just couldn't get into
I don't ship Juliet with Warner (Shatter Me trilogy). Don't hurt me, I don't ship her with Adam or Kenji either! I would have actually preferred it if she hadn't ended up with anyone. Everyone loves Warner but no matter how much I tried I could never get onto that train, so having him suddenly be with Juliet (who, to be honest I never really liked all that much) really annoyed me.
09 Favourite LGBTQ+ OTP
Pynch (The Raven Cycle) – These two are a gift to humanity and I appreciate their relationship very much. If you haven't read this series and been drawn into the mischief these two and their friends stir up you should really get on that!
10 All-time favourite OTP
If I'm honest it's probably Percabeth (Percy Jackson series). I have shipped these two from the get go and to this day I still love them. They're both great together but they honestly have some of the best teamwork and development that I've ever read.