The Third Door - Emily Rodda
Finished August 01, 2016 | Pages: 359 | Rating: 5/5
There's nothing like a good old mind fuck. But really guys, this book was an amazing finale. If you havent read this trilogy I urge you to pick it up!
Pride and Prejudice - Jane Austen
Finished August 03, 2016 | Pages: 315 | Rating: 4/5
I read this last year and loved this so when I found out that Zoe @ ReadbyZoe was starting a book club for Austen's novels I had to join! It was a great feeling to be back in the drama of the Bennet's lives and I can't wait to re read it again in a year or two.
(Next month the book club is reading Persuasion but I read it in January so while I won't be actually reading the novel I will still be participating in the discussions and will be watching the movie version (2007). My Goodreads | Austentatious Book Club)
Scott Pilgrim's Precious Little Life (Scott Pilgrim, #1) - Bryan Lee O'Malley
Finished August 05, 2016 | Pages: 168 | Rating: 4/5
This was amazing, how have I not heard of this series until now? (also Wallace is amazing)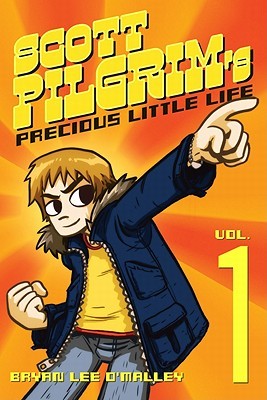 Finnikin of the Rock - Melina Marchetta
Finished August 08, 2016 | Pages: 512 | Rating: 2/5
If you want overbearing romance and little to no plot this is your book. I had high hopes for this book but I think I'm one of the few people who just didn't care for it.
Amulet Book 3 - Kazu Kbuishi
Finished August 11, 2016 | Pages: 224 | Rating: 3/5
This volume was kind of meh. I still love the fox but the mum needs to leave.
September TBR will be up soon! Hopefully September will be a better reading month.